Switching careers after 21-years in the military can be scary, but with the right support, it can also be the start of an incredible journey. Ariel, a Strategic Sourcing Specialist at Disneyland Resort, found that joining Disney was made easier thanks to special programs designed to help veterans transition into civilian life.
"Transitioning out of the military is challenging," Ariel admitted. "It was one of the hardest things I've ever done, so I had to put all those insecurities aside and get to a point where that challenge became the beginning of my journey and my family's journey."
To help veterans find their new beginnings, The Walt Disney Company partners with the Department of Defense SkillBridge program to offer the Military Fellowship Program, providing fellowships across a wide range of Disney roles to active-duty military members at the end of their military service. The program matches civilian opportunities to veterans' job training and work experience, giving servicemembers the opportunity to gain valuable civilian work experience through specific industry training, apprenticeships, and internships.
"The Military Fellowship Program helped me transition out of the military by allowing me to come to the Disneyland Resort and truly integrate into a team," Ariel remarked. "Having an understanding of how the team works, how they communicate, and the day-to-day functions of the role that I could be potentially applying for was instrumental in alleviating a lot of the doubt and insecurities of doing something completely different."
Support from fellow Cast Members with similar backgrounds also helped Ariel thrive in his new environment. Business Employee Resource Groups (BERGs) throughout The Walt Disney Company bring Cast Members who identify as members of certain groups, as well as allies, together in a safe space to lift one another up and grow.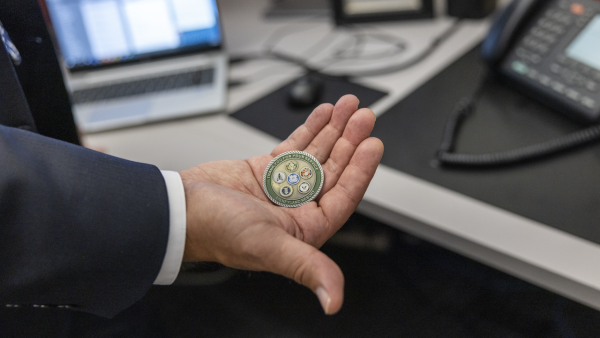 One such BERG is SALUTE, which is committed to enhancing the Disney experience for those who have served in, or have a strong connection to the military. SALUTE strives to cultivate a place for veterans, friends, and family of veterans to support camaraderie, encourage professional development, and foster community service.
"I had multiple mentors," Ariel said. "What they helped me do is understand that this is not beyond my ability and that doubt can be overcome," Ariel said. "I hope that my story can inspire others to believe in their dreams."
Ariel serves as Co-Chair of the SALUTE BERG to inspire others and to express gratitude to those who played an important role during his transition.
"To this day I call my mentor at minimum once a week to seek counsel," Ariel admits. "He's been a true friend along my journey and as I've grown into a leader and transitioned into this next chapter."
Resources, such as the Military Fellowship Program, and BERGs, like SALUTE, help veterans feel a sense of belonging and purpose at Disney. With a focus on diversity, equity and inclusion, Cast Members like Ariel able to thrive and grow while sharing their unique skillsets and backgrounds. It is a community within a community with a special purpose.
"I love the sense of community here and the opportunity to have an impact," Ariel remarked. "Disney encouraged me to build a support network for veterans at the park. It felt like home."
By making the transition to mentor himself, Ariel continues to pay it forward by helping others at similar turning points in their careers.
"The Walt Disney Company does a great job of letting veterans know that they have a home here, bringing veterans into the family and help them continue to give back to the community and build long-lasting relationships," Ariel stated. "My motto has always been, make it happen. Disney encourages me to do that and create magic."