From Afghanistan to Africa to Orlando, Florida, Ken Chapman has always taken pride in his work ethic and passion to do his best every day. National Veterans and Military Families Month recognizes the important roles of veterans like Ken, who served not once but twice in the military during his 30-year career here at Disney.
Today, Ken is a third shift bellperson working at Disney's Caribbean Beach Resort. He loves experiencing the joy Disney brings to guests of all ages. "Being the first and last person guests see on their vacation is a highlight for me. I love hearing the kids recap their stays with wonder and joy told through their stories."
Ken has worked for The Walt Disney Company on both coasts of the United States. He served in the United States Army before starting his career at Disneyland, and then moved to Orlando to work at Walt Disney World. When the tragedy of 9/11 happened, Ken was motivated to go back and serve his country. He was part of the United States Air Force for 16 years, serving in the Middle East and Africa.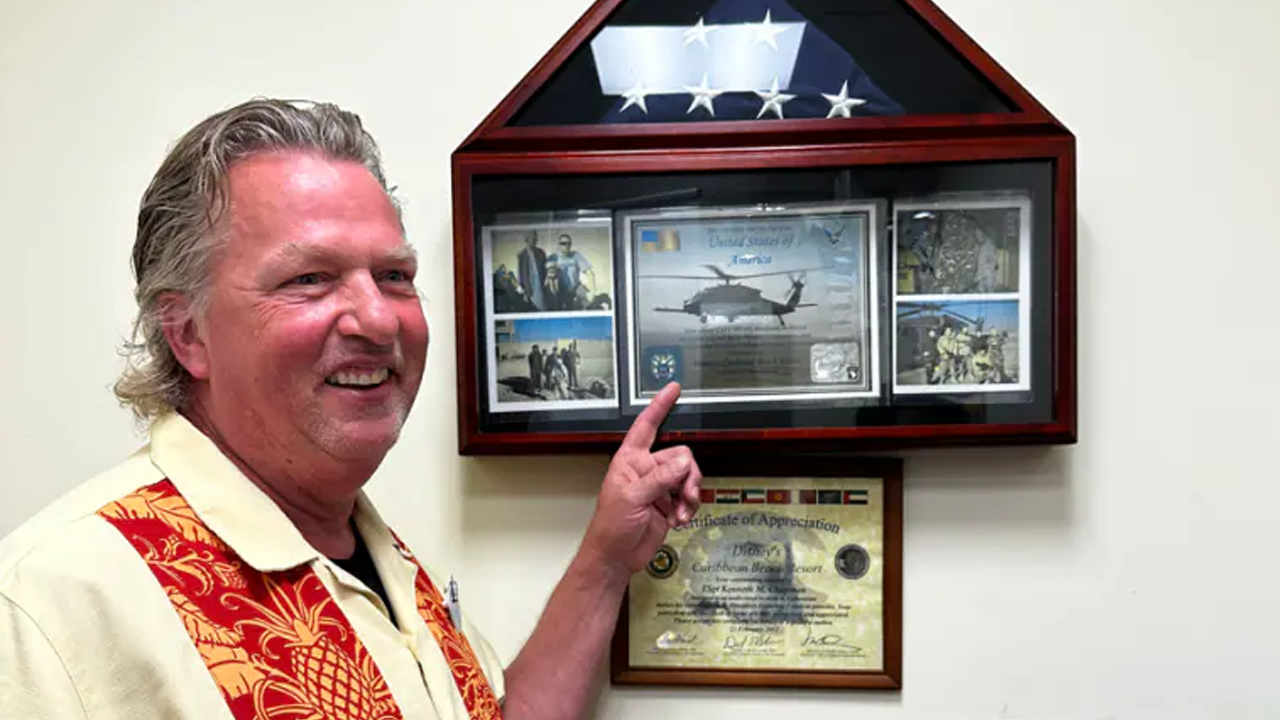 Because the Walt Disney Company was such an integral part of his character, he gifted Walt Disney World with a very special United States Flag that he flew during his deployment. Honoring both his time in the service and as a cast member, this flag now hangs backstage at Disney's Caribbean Beach Resort where fellow cast members can admire Ken's bravery and service every day.
Ken shared that "Disney's American values are very special to me and something I hold close to my heart."
Ken received the Legacy Award in August of 2022, which is the highest award given to cast members who exemplify all three pillars of dream, create, and inspire. Throughout his career in the military and with the Walt Disney Company, Ken has shown true passion and dedication in all he does.
"I always felt that Disney always supported and welcomed veterans which is why I continue to work here," Ken told us. He hopes to inspire others to see themselves in the magic created every day at Walt Disney World Resort.
We would like to extend our deepest gratitude to all of the cast members who have served our country and now choose to bring joy and wonder to guests every day around Walt Disney World Resort.