Holiday Services Lead Martin Outzen has spent over seven years working to design, manufacture, restore and install the resort's holiday-inspired decor.
Martin leads a team of 25 Resort Enhancement cast members to ensure that the decor is culturally inclusive, environmentally sustainable and always beautiful.
Earlier this month, Disneyland Resort third shift cast members attended an exclusive after-hours viewing of the Christmas tree on Main Street, U.S.A. designed by Resort Enhancement and Walt Disney Imagineering cast.
It's beginning to look a lot like the holiday season at Disneyland Resort thanks to Holiday Services Lead Martin Outzen and the Resort Enhancement team members who work year-round to prepare for the resort's festive transformation.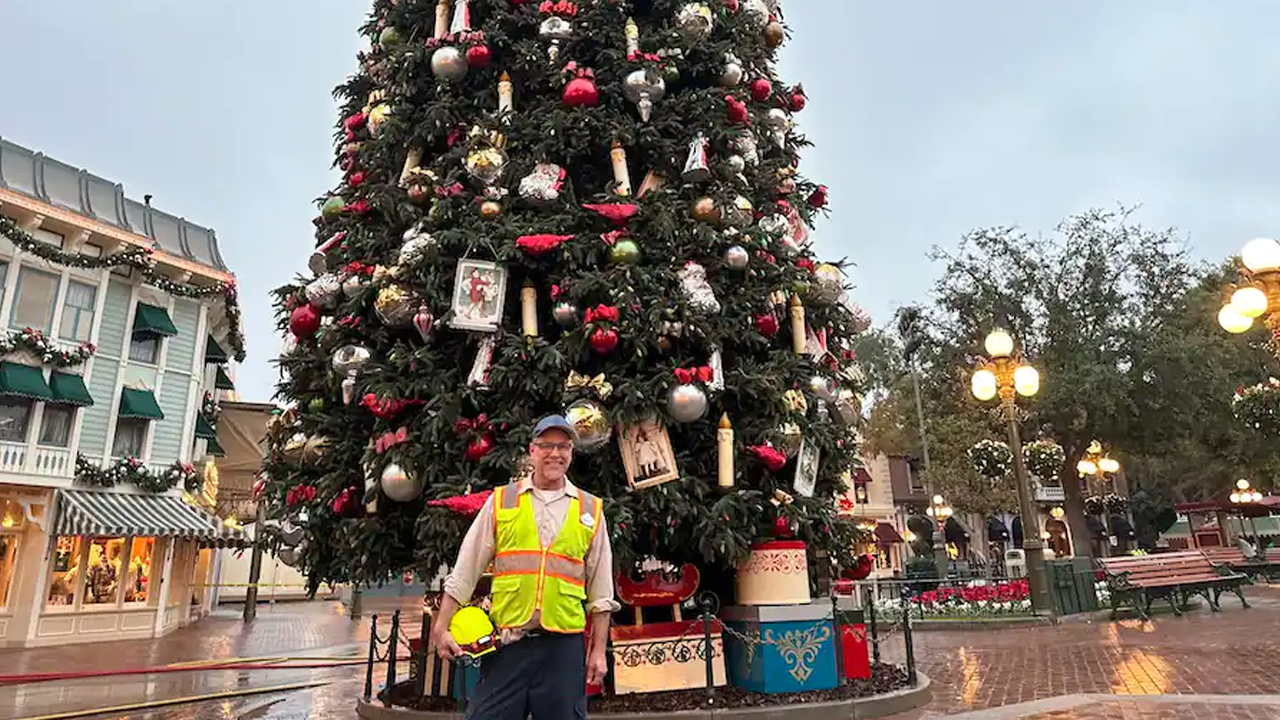 Earlier this month, third shift cast members were invited to enjoy donuts and hot chocolate overnight while viewing the Christmas tree lighting in Town Square, an annual tradition since 1955. Cast eagerly awaited as Disneyland Park Vice President Kris Theiler and Disneyland Resort Senior Vice President Patrick Finnegan worked with Entertainment Technical Services and Resort Enhancement cast members to top the tree with a star.
But a few hours later, just as the sun began to rise, Martin stood on the empty sidewalks of Main Street, U.S.A., staring up at the 60-foot-tall Christmas tree.
"I'm so busy with install that I forget the joy that comes out of this, and that if people want the Christmas experience, Disneyland is where you can come to get it," Martin said, his eyes welling up with tears. "I know how much the Christmas experience means to me when I go somewhere; It takes me out of my busy day, so I'm hoping that that's what we did for others."
Martin has spent seven years working with the Resort Enhancement team to design, manufacture, restore and install Disneyland Resort's annual holiday-inspired decor. He and his team oversee everything from the vibrant purple and green garland in New Orleans Square to the shimmering hubcap Christmas tree in Cars Land.
"We like a design to stay around for about five years before we change it," explained Martin. "While the design may not change, we have to refresh it every year and that's why the team literally starts [working] at the beginning of the year. It keeps us very busy."
Martin's artistic abilities extend beyond holiday decor. Prior to joining the Resort Enhancement team, he worked as a writer in New York. Today, he channels that creative energy into writing original songs about Resort Enhancement, which he sings during their team meetings!
"[The tree] is the icon," Martin shared. "It's unusual to have a tree that's 60 feet tall. It's a beacon and you don't see that just anywhere."