Most people have a Disney story—a special connection to Disney and its magic. For Eric, a project manager at Disney Cruise Line, his Disney story started when he was a young boy going to the parks with his grandfather. He grew to become a Disney cast member, and later, as an hourly employee, Eric achieved his goal of earning his master's degree, fully funded through Disney Aspire. Eric's story at Disney is one of magic, family support, and achieving dreams that once seemed out of reach.
A Wish Comes True, Disney College Program to Disney Cruise Line
The one thing Eric's grandfather loved more than Disney was his family and his grandson. Eric was introduced to Disney at a young age through his grandfather's love for all things Disney. So, when Eric first got the opportunity to work for The Walt Disney Company through the Disney College Program, his grandfather was overjoyed. For Eric, it was "truly a dream come true to be able to combine [his] love for [his] grandfather and Disney" into his job; because now he was able to not only "work here, but then was able to bring [his grandfather] to the parks and experience it all in a new light."
Today, as a Disney Cruise Line Cast Member, Eric creates unforgettable experiences for guests. He's part of a dynamic environment bringing Disney's magic to guests at sea aboard new cruise ships like the Disney Wish. Eric makes sure the ships are operating smoothly and effectively so guests can enjoy every experience Disney cruises have to offer like Broadway-quality shows, magical character interactions, and delicious cuisine at restaurants including Palo.
Unlocking Dreams with 100% Free Education at Disney
Eric's grandfather was especially proud of Eric for choosing to continue his education through Disney's Aspire program. The program provides hourly and shore-side cast members, like Eric, the opportunity to pursue higher education and professional development. After earning his degree, Eric became a Disney Aspire Advocate, with the goal of sharing news about the program with other Cast Members and prospective students. With the Disney Aspire program, Eric received his master's degree in information communication technology from the University of Denver. Disney Aspire covered all tuition fees for Eric, so he did not have to worry about taking out loans or paying out of pocket. By taking courses online, Eric was able to balance his work schedule and spend more time with his family, including his grandfather.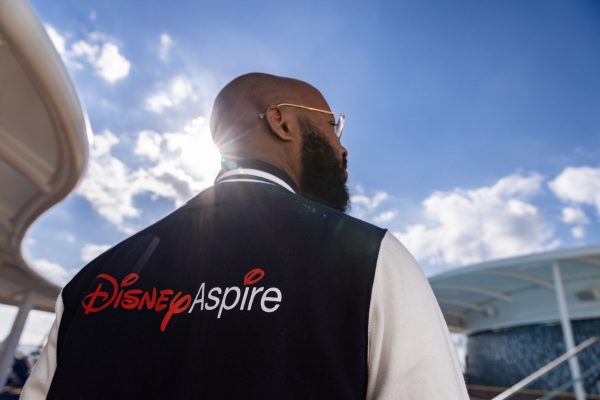 Disney Cast Members Reach Their Goals & Grow Careers
From the Disney Vacation Club team to the Disney Cruise Line, Eric has held several roles at the company, each teaching him valuable skills. Eric feels a deep connection with the company that he believes was instilled in him by his grandfather. Knowing that "Disney really wants to see their cast, crew and employees achieve their dreams and reach their goals," assures Eric that Disney is the best place for him to work. And his grandfather's legacy continues to be an ever-present source of pride in his daily work at Disney as Eric always "strives to provide the best possible experience for guests," just like his grandfather would have wanted.