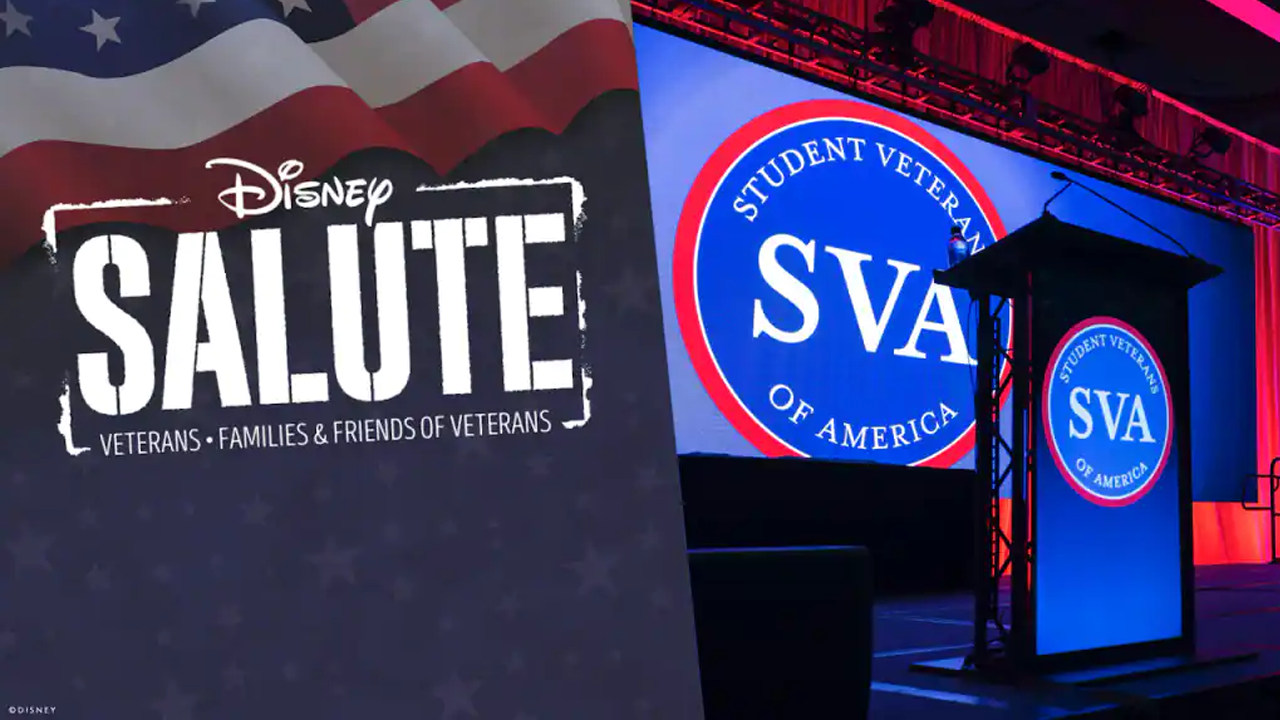 We were honored to welcome the Student Veterans of America (SVA) National Conference or "NatCon" back to Walt Disney World Resort for their milestone 15th annual convention. The SVA NatCon is the largest gathering of student veterans anywhere in the world and has been held at the Most Magical Place on Earth a few times over the years.
Disney has been a proud supporter of SVA for 10 years as their work aligns with Disney's own veteran-support programs, including the Heroes Work Here program and Veterans Institute Summit that helps veterans as they look for meaningful work following their military service.
This salute to military service has been an enduring Disney tradition since the founding of our company 100 years ago.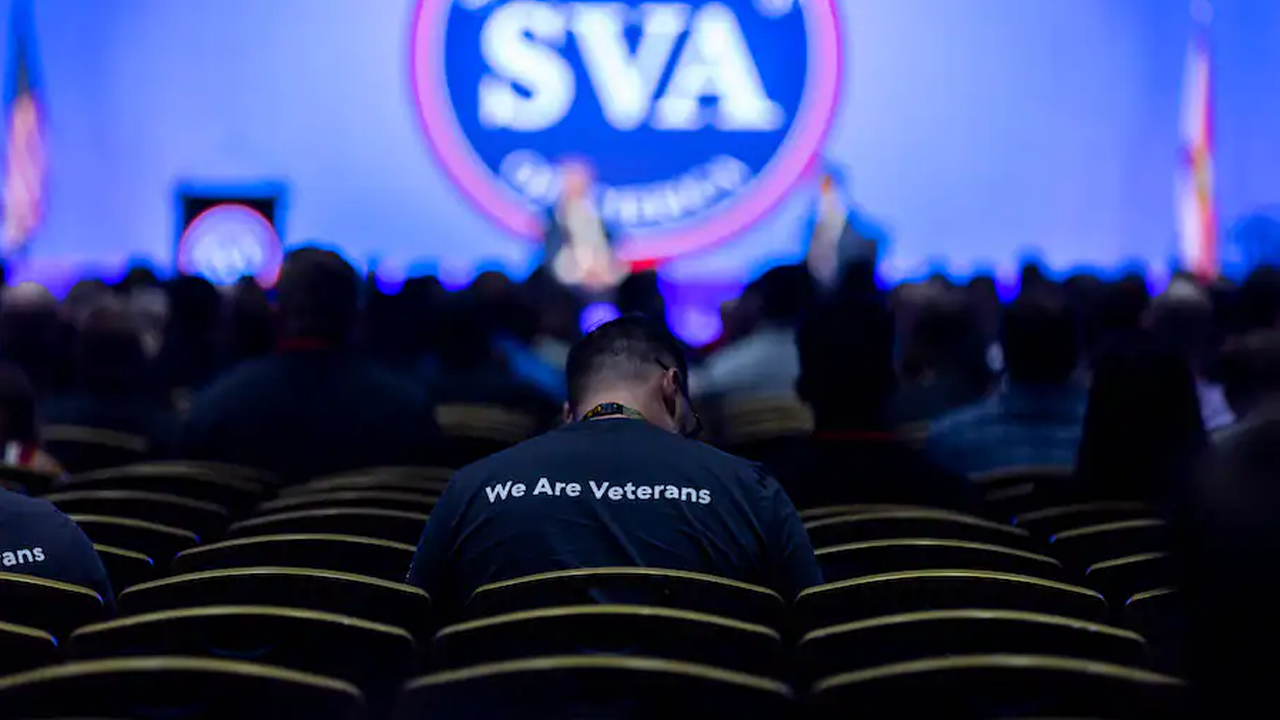 Photo credit: Student Veterans of America
With SVA chapters at more than 1,500 campuses across the U.S. and in several countries abroad, NatCon serves as a key moment during the academic year to share best practices and network with student veterans, military-connected students, their families, supporters, and allies, as well as corporate, government, and nonprofit partners.
Our Mission to Uplift: Disney Honored as a Partner to Veteran Communities
The president and CEO of Student Veterans of America, Jared Lyon, recognized Disney this year with the prestigious "Partners in Excellence" award during the conference. This award recognizes those who contribute tirelessly outside of their everyday workload and organizational focus, to lift up the mission and members of Student Veterans of America.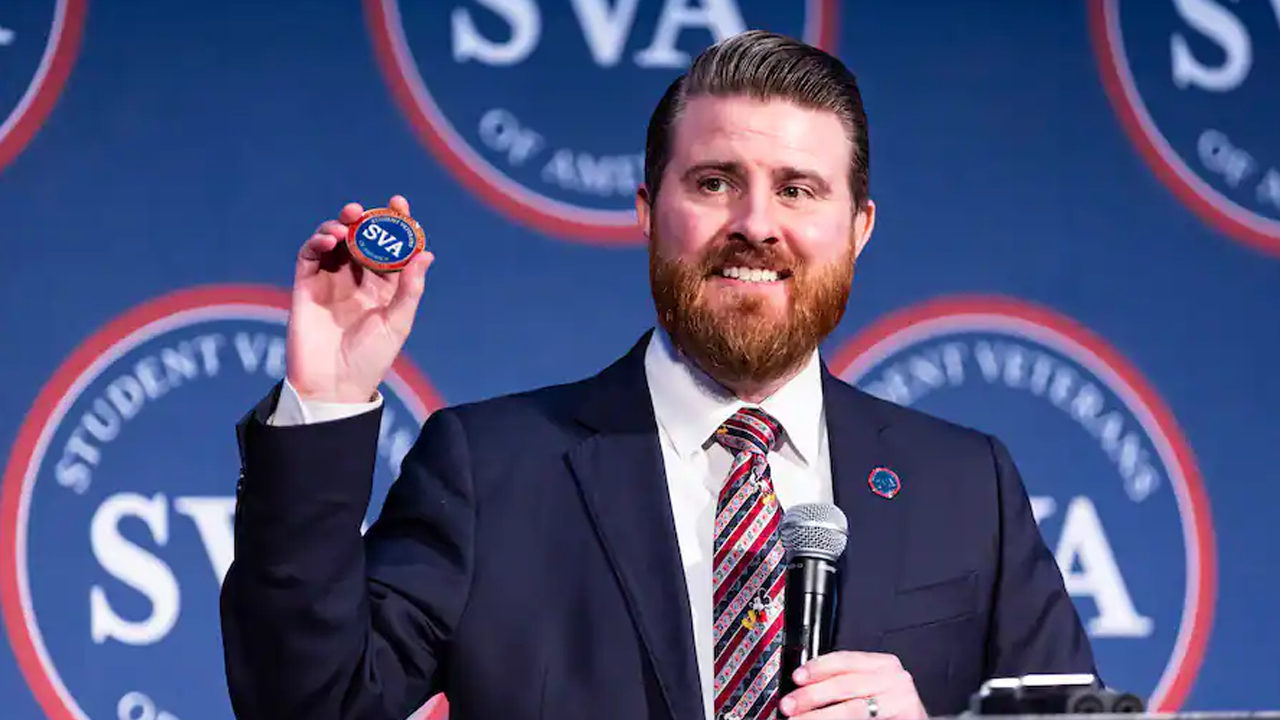 Photo credit: Student Veterans of America
"As SVA celebrates its milestone 15th anniversary, we were thrilled to host our most important event of the year, the National Conference, again at Disney's Coronado Springs Resort, a truly remarkable place 'to NatCon,'" said National President and CEO Jared Lyon. "Disney's ongoing support of student veterans empowers the next generation of American leadership while serving those who have served. We remain deeply grateful for our game-changing cooperation."
Sharing the Journey from Student Veteran to Disney Cast Life
For Disney cast member and U.S. Army veteran, Gordon Campbell, this year's NatCom was extra special. Gordon is an associate recruiter with Disney Parks, Experiences and Products, but he was also an active member of his SVA chapter at Defiance College in Ohio after his time in the military. He was proud to attend this year's conference as both a SVA alumni and a Disney cast member to share his perspective with fellow veterans looking for their next post-military careers.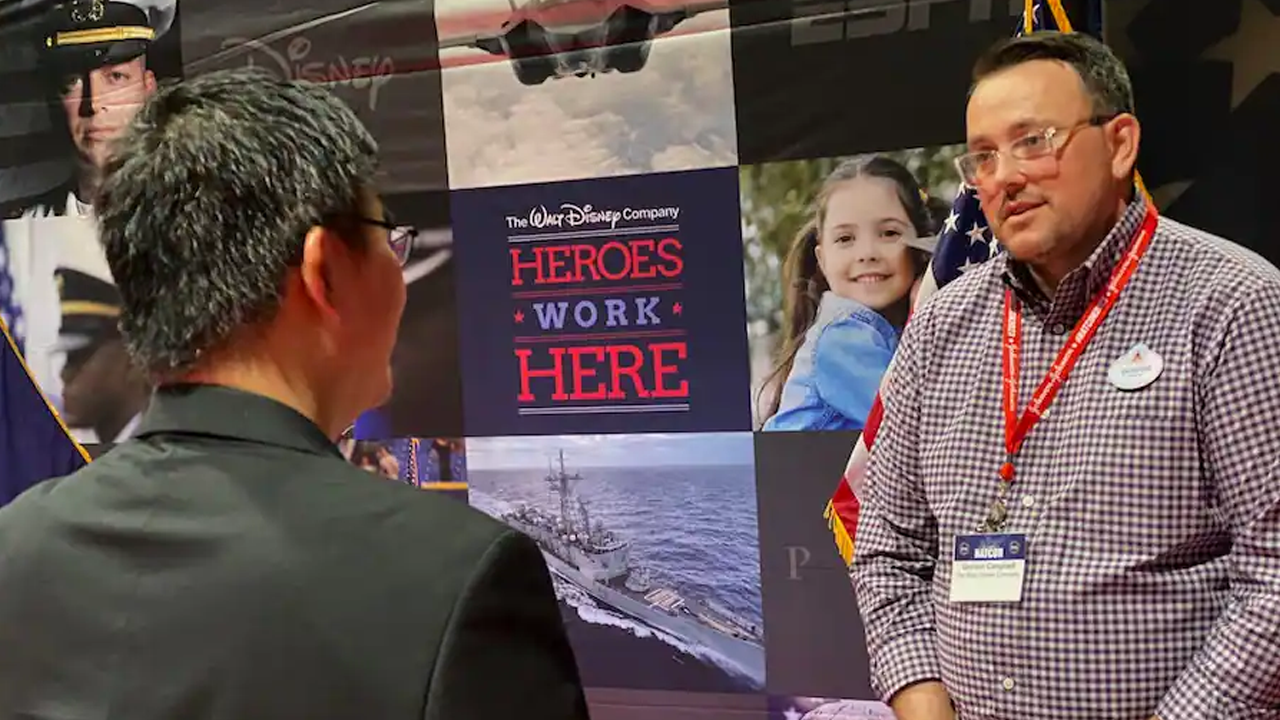 Disney cast member Gordon Campbell chats with an attendee of the 2023 Student Veterans of America National Conference at Walt Disney World Resort
"I really enjoyed speaking with student veterans and offering them some advice and guidance," said Gordon. "As a former SVA member, it was great to be able to give back to the community and organization that helped me so much as I began my civilian career after my service in the Army."
In addition to having a spot on the conference show floor to meet attendees, we also hosted a panel discussion where cast members with military service had the opportunity to answer questions about their journey from the military to Disney and adapting to a new company culture.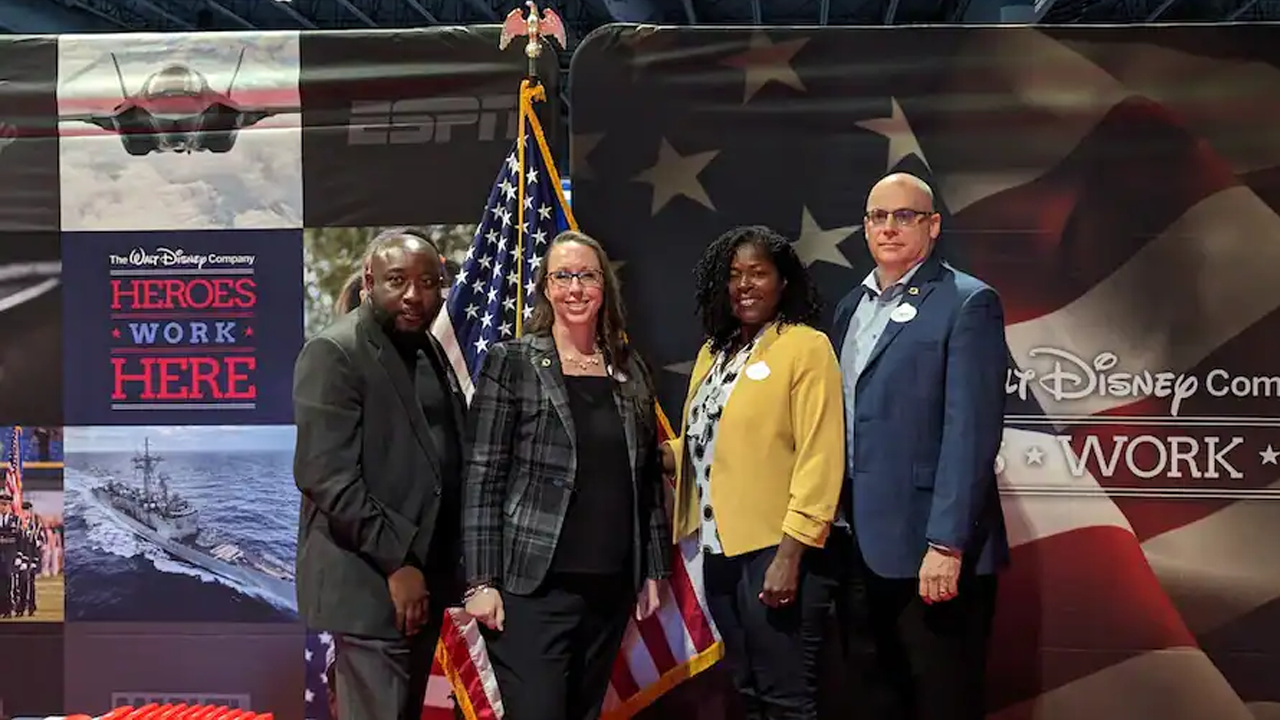 Disney cast members Gardimy Fleurius, Laura Nugent, Tinisha Agromante and Kevin Preston participated in a panel about acclimating from military service to a corporate culture during the 2023 Student Veterans of America National Convention at Walt Disney World Resort. Gardimy, Laura and Kevin are all veterans and Tinisha is a military spouse.
Gardimy Fleurius, a Sr. Recruiter with Walt Disney World Resort and U.S. Army veteran, offered advice to the student veterans attending the panel about his experience adapting to a new corporate culture.
"Soft skills are very important as veterans transition from military to the civilian life." said Gardimy. "Military members learned how to give direct orders in support of accomplishing their mission, whereas life inside a civilian organization often requires a softer approach. In addition, veterans should highlight their incredible skills at easily adapting to changing situations as skills such as those that come natural to them are valuable in post-military careers."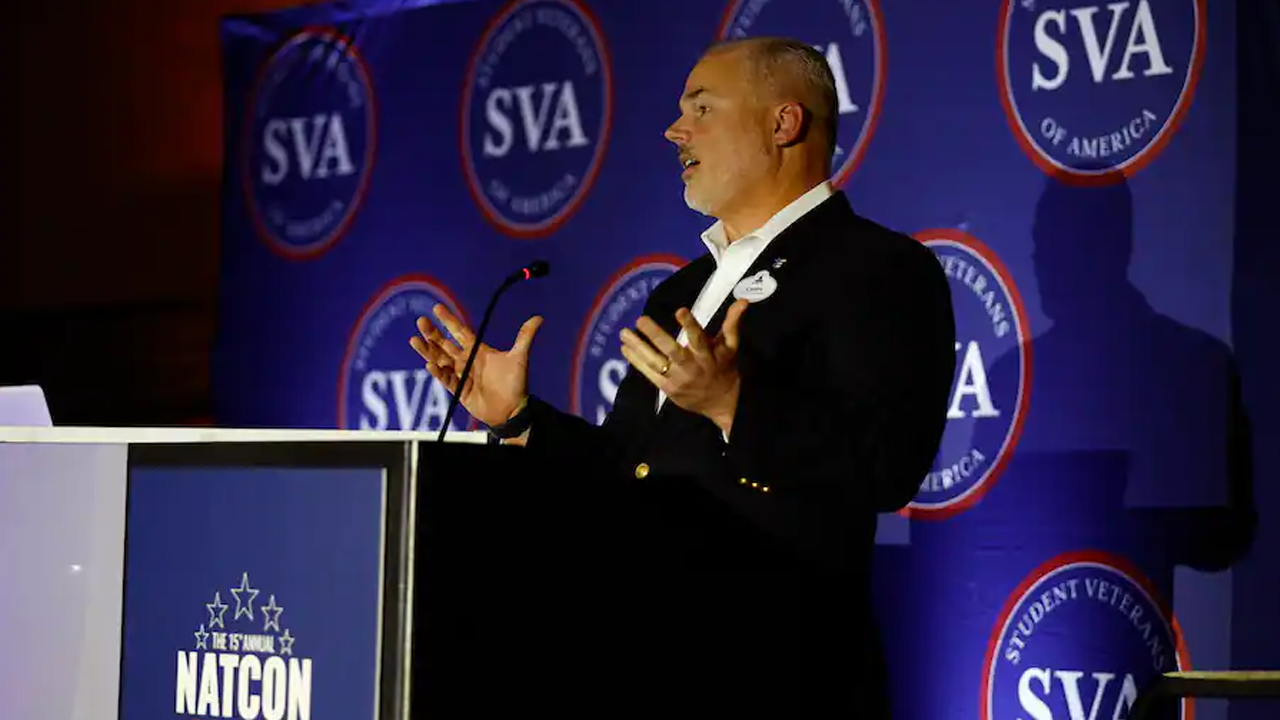 Disney keynote remarks at the Student Veterans of America National Conference Military Ball on Jan.7 (Photo credit: Student Veterans of America)
Disney was also the official sponsor of the "Military Ball" gala Jan. 7 where we shared stories about Disney's admiration for the U.S. Armed Forces throughout our company's history dating back to our founders Walt and Roy's Disney's own contributions during the First World War. It was a fun evening that officially brought the successful conference to a memorable close.
We thank all these incredible veterans for their military service!