Disneyland is filled with unique experiences that bring characters, stories and magic to life and can be explored using park maps. These bright and colorful guides are available in six languages and are produced by long-time Anaheim supplier, Advantage ColorGraphics. For several years, the team at Advantage ColorGraphics has helped families experience all Disneyland Resort has to offer—starting from Main Street, guests explore favorite attractions, delicious smells of Disney snacks, sounds of Disneyland parade and more, all with the assistance of the guide map.
The Business Behind the Disneyland Park Map
Based in Anaheim, California, Advantage ColorGraphics is a regional commercial printing firm born out of one entrepreneur's vision to deliver the best to local clients. What began as a small mailbox shop 29 years ago, founded by Tom Ling, has become a world class service, working with global and local companies, including Disneyland Resort. Tom started the business from his kitchen table and remembers finding "a love for printing and mailing," later deciding "that this was something [he] wanted to do for a lifetime in a career." As a local business leader, he sees Advantage ColorGraphic's role as one committed to philanthropy, integrity and cultural heritage at its core.
Disney's Commitment to Diverse and Local Suppliers
To visitors of all ages, Disneyland is a magical land—a place to create happy memories and spend time with family and friends. And to the local community in Southern California, Disney's work with suppliers also enables the community and economy to prosper and grow. For Tom and the Advantage ColorGraphics team, "the business that Disneyland provides ensures that we're able to impact Anaheim and the local communities." Regardless of the company's success, Advantage ColorGraphics is committed to always being a "provider and giving back to the community" economically and philanthropically.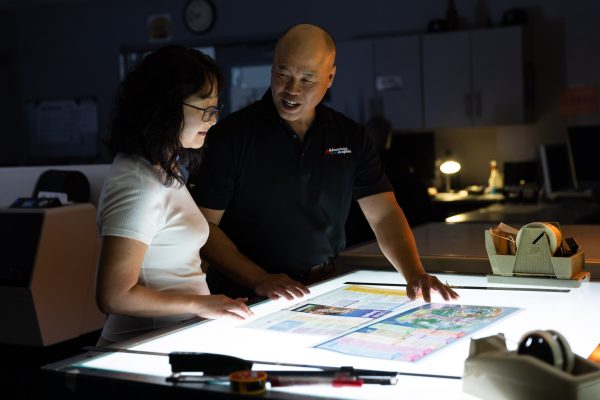 As Tom recalls, Advantage ColorGraphics initially engaged with Disney because the company wanted to make "an effort to reach out to small businesses to support." The team was given the first opportunity to redesign the maps, providing a new look to delight guests. Tom "remembers the first time" he went to Disneyland with his family and his kids "made a beeline over to the park maps" saying "Dad printed this!" The Advantage ColorGraphics team truly invested in the creative process and brought "in different [design techniques] that they've never used before, including new icons and color schemes." With these creations, they are not only part of Disney's extraordinary group of suppliers, but also a forever part of the company's history and memories that guests carry with them.
The Walt Disney Company is committed to working with diverse suppliers like Advantage ColorGraphics and furthering equity and inclusion in its business practices. One of these commitments includes pledging to increase Disney's spending with diverse suppliers to $1 billion annually by the end of 2024. Additionally, to help grow and develop businesses and entrepreneurs, including those owned by women, minorities, LGBTQ individuals, and veterans, Disney has increased representation of these groups in its supply chain.