When Disney Cast Member Princeton Parker isn't helping tell stories about Disney's parks and experiences across television shows like American Idol or Dancing with the Stars, he can often be found onstage inspiring groups of local students about their futures. For Princeton, this commitment is equal parts rewarding and personal, as not long ago he was one of those students benefitting from Disney's investments in future leaders.
As Los Angeles natives, the Parker family came to love the Disney brand through film and television—mediums that inspired Princeton to dream and engage with those around him. Early on, Princeton began making his impact through public speaking events and sermons, earning the affectionate nickname of "kid preacher." This passion for storytelling grew, as he went on to become a licensed minister and deliver motivational speeches.
From Dreaming to Doing at Disney Parks
"Throughout my life, I've been committed to using words to create experiences that would help people see, believe, and pursue the best of themselves. That took me through my years in middle and high school, speaking around the country. And my last year of high school, I attended a program put on by Disney, where students could come to the parks and be immersed in pursuing their dreams and learn how [the company] could be the place to inspire them to make that happen," Princeton recalled. After years of relating to his favorite Disney characters, this was a pivotal moment for Princeton to see himself reflected in Disney's mission—to uplift and invest in communities through inspirational, yet relatable stories.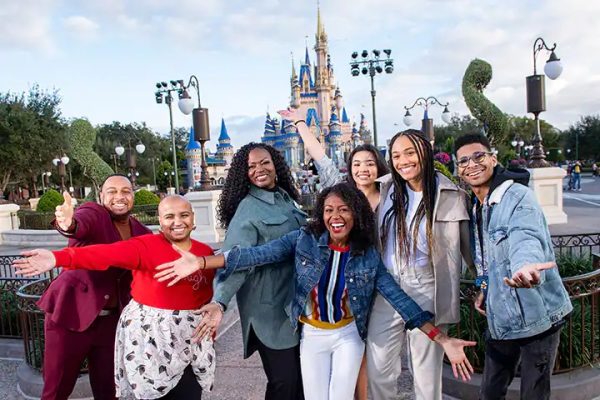 For the high school senior, hearing Disney Parks leaders share similar life experiences was transformational. The encouragement Princeton felt over that four-day experience stayed with him four years later as he began applying for a full-time job. "I didn't know how or what [my career] would look like, but I knew that there was a space for me within Disney. From my first step on property at the Disneyland Resort, I was presented with opportunities to now pay forward the experience that was given to me—empowering [students] to understand how to prepare their careers can envision themselves [at] Disney," said Princeton.
Throughout the past six years as a Disney Parks cast member, Princeton's professional growth is evident in the various roles and industries he's explored – from park operations to television content programming. His leaders encouraged him to try new career paths, while helping him hone his craft as a public speaker on some of Disney's biggest stages. Some of these opportunities include representing the company on live television broadcasts, sharing all the ways guests can experience new lands like Avengers Campus, celebrating heritage during Black History Month, and more.
Making a Difference Throughout Anaheim and Beyond
"Whether I'm standing in a classroom, on stage, or helping craft a TV show feature, my hope is that people see someone who comes from a similar experience as theirs and know that there's room for that experience to continue and blossom at Disney, because that is what changed everything for me," Princeton shared. Today, his engagements include volunteering as a speaker with Disneyland Resort's Workforce Development Initiative which provides mentorship, career training and donations to local Anaheim non-profits. He's also an active member of United Way's Speakers Bureau representing Disney's investment in high school students preparing for college, apprenticeship programs or their first step into a full-time career.
"Disney is not just about telling stories, we're about creating them. No matter your background or experience, there's room to create your story here at Disney," Princeton said. "My hope is when someone hears me or interacts with me, they are able to understand that whatever their career path, whatever their skill set, whatever their passion, whatever their identity, there's room to create a story for ourselves and for the audiences that we serve here."