Walt Disney famously said, "You can design, create, and build the most wonderful place in the world. But it takes people to make that dream a reality." The people he was referring to are the employees, known as Disney cast members, who come to work each day with the purpose of creating happiness for those around them. Cast members are the very heart of Disney, as they make ordinary days extraordinary with every smile, every wave and every memory in the making.
One such cast member is Atlanta native and Georgia State University graduate Ronke, who began her career at the Front Desk of Disney's Wilderness Lodge while on the Disney College Program, a unique living and working environment with participants from all over the world. During this time, Ronke was able to gain uniquely Disney on-the-job learning experiences, all while preparing for her future and building transferable skills including networking, problem solving, teamwork, and effective communication.
As the college program neared completion, her leaders encouraged her to apply for a Management Internship, which enabled Ronke to gain the leadership experience that became the foundation of her career. Now, almost two decades later, she is a manager with Casting Services, helping make dreams come true for others by filling front-line roles all throughout Walt Disney World, just like the one she first held.
A Place to Learn & An Opportunity to Develop at Disney
Employee longevity is typically something of a bygone era, however, with the chance to move between departments and expand into exciting new career industries, Disney cast members like Ronke have limitless growth opportunities under one umbrella.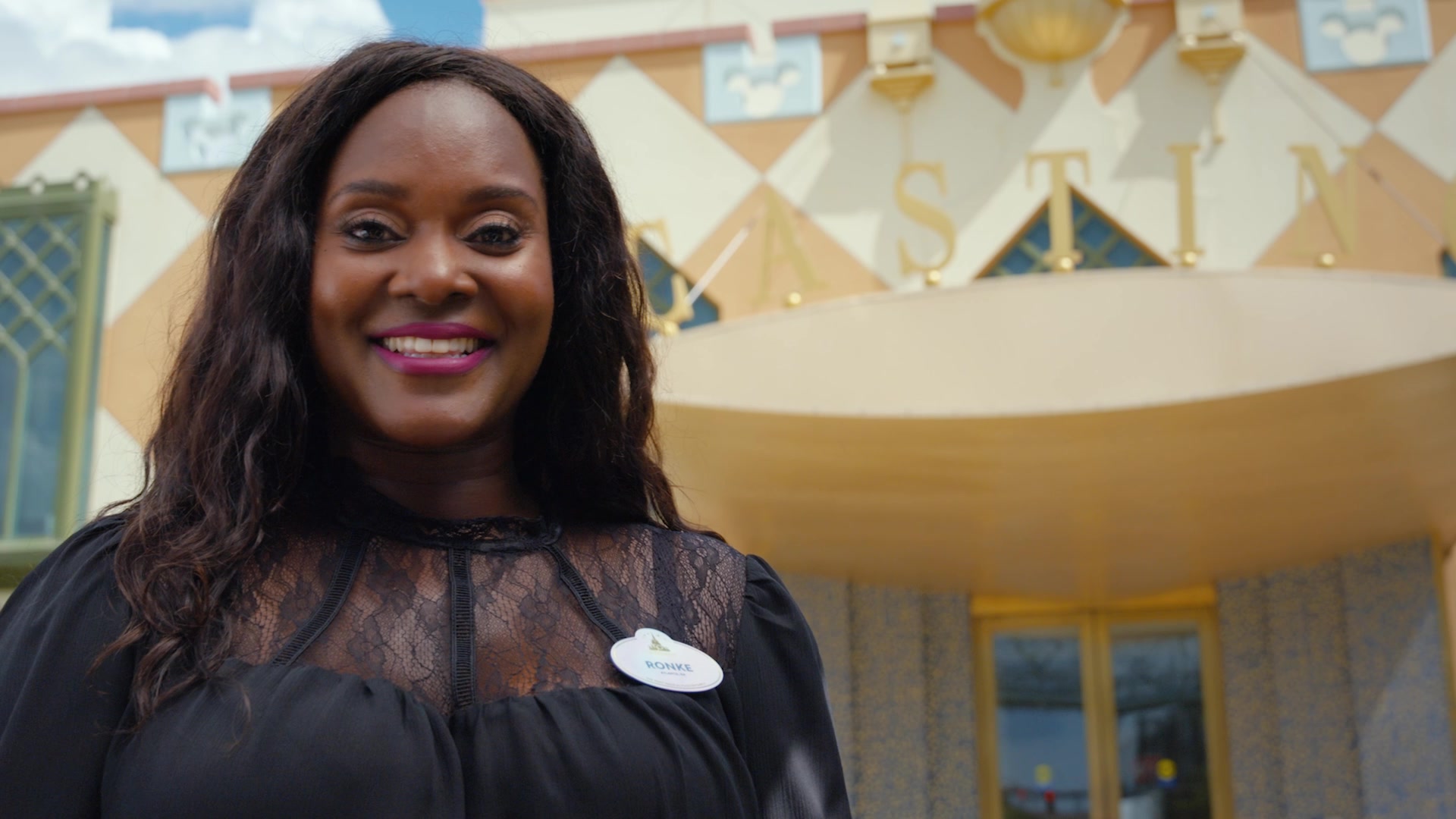 "I am a living, breathing example of the opportunities at Disney," Ronke exclaimed. "From working in operations, becoming a level one sommelier, a beer cicerone, getting my master's degree through the education reimbursement program, and holding various roles in the professional admin spaces, I've done a lot. Throughout my career at Disney, I have found that it has enabled me to grow professionally and build a family that I didn't know I could have. It has given me experiences that I could not have even imagined. I have gone to places and done things and seen things that are really 'only at Disney' moments.
A Mission to Create Happiness for Other Cast Members
Reflecting on her experience and growth at Disney, Ronke is quick to mention those who have positively impacted her career. To pay it forward, she gives back to her fellow cast members as a co-leader of the Business Employee Resource Group PULSE, which promotes the advancement of equity, inclusion, and belonging for black cast members and as a member of the Black Talent Network, which is a dynamic program designed to support the exposure, sponsorship, and development of Black senior leaders.
As Ronke continues to grow and evolve in her career, she makes it her mission to help others along their journeys as well. "I have a favorite phrase, 'pull as you climb,'" Ronke shared. "The heart of Disney really is our Cast. What I appreciate about this company is that we really do pour into others. We want to see other people around us grow. Our Cast Members are the Disney Difference."
One of the ways that happiness is created for Disney cast members like Ronke is by helping them expand beyond the knowledge and skills they first had when they came to the company. For Ronke, the journey between Front Desk and Casting Services was filled with a wide array of experiences, from Catering to Food and Beverage and Outdoor Foods, as well as several Professional Administrative roles focused on improving the careers of others and bringing a sense of optimism to cast, leading her to where she is today.
"The opportunities at The Walt Disney Company are truly endless," Ronke explained. "What drives me and what really fuels me is to help bring happiness to others, in return for the happiness that's been brought to me."