Wishes really do come true! Walt Disney World Magic Kingdom was founded by two brothers who believed in the power of magic. Since then The Walt Disney Company and our cast members have continued to deliver magic through wish granting. Granting wishes to children dealing with critical illnesses is especially impactful and transformative, and not just for the children.
The power of granting a wish for these children can reach far beyond their trip to Walt Disney World, extending to families, communities, Disney cast members and Make-A-Wish Foundation volunteers. Disney teaming with the Make-A-Wish Foundation has made magic for many lives and lifetimes.
The Disney experience of granting wishes renews hope and uplifts spirits. It brings a child's family, care team and community closer together, especially when they come together to make the wish come true. Disney is the largest wish granter in the world for Make-A-Wish, having made more than 150,000 wishes come true. In fact, Disneyland resort in California was part of the first wish that inspired the founding of Make-A-Wish in the 1980s. With that first wish, Disney launched a shared journey of bringing joy to children and families who need it most for years to come.
A Disney wish can mean so much more for the Disney cast members who help make them come true. For Jerome, General Manager of the Halcyon, Galactic starcruiser, a wish is the hope that Disney provides to children and families who might need a little extra magic in their lives. To Stephie, Pastry Sous Chef at Disney's Polynesian Village Resort, near Disney Florida, a wish is the bridge that connects passions and dreams. And to Ali, a Walt Disney World Ambassador, wishes are miracles.
Granting Disney Wishes Since the 1980s
Since the 1980s, Disney has worked with Make-A-Wish, granting over 150,000 magical Disney wishes to children with critical illnesses. Disney has also donated millions of dollars to Make-A-Wish, joined Orlando's Walk for Wishes, raised over $1.5 million by creating specialty 50th-anniversary Make-A-Wish license plates for Florida residents and encouraged cast members to volunteer with Make-A-Wish visits.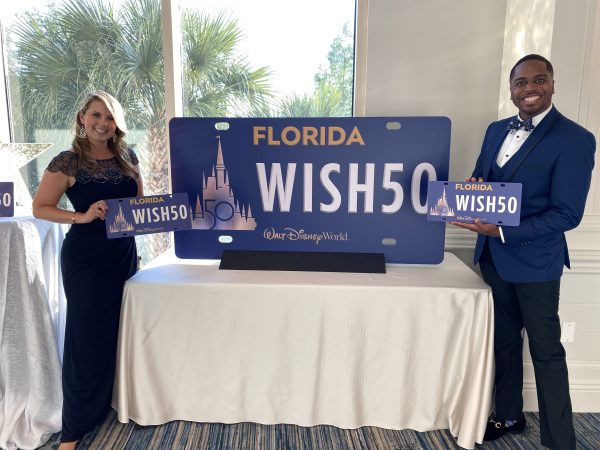 Make-A-Wish's Galactic Adventure
Make-A-Wish and Disney have a significant meaning for Jerome and his family. Twenty years ago, Jerome's younger cousin, Cory, wished to go to Walt Disney World Resort. He got his wish and the trip made lasting memories for Jerome's family. Jerome later shared his memories with the first travelers of the Star Wars: Galactic Starcruiser, also Make-A-Wish recipients. Interacting with wish kids as a cast member provides Jerome with a "joy that can't be explained," as he sees "the sparkle" in the kids' and families' eyes." To Jerome, Make-A-Wish is "Disney at its best," making his job more meaningful.
The Legacy of a Wish
Bringing joy is part of Ali's role as a Disney Ambassador. Ali represents Disney cast members and their work with Make-A-Wish nationwide. Ali says that "being able to work with the Make-A-Wish Foundation is truly something special." She witnesses the magic at the Make-A-Wish Wishmaker's Ball and in greeting Make-a-Wish children as they are "embarking on a galactic journey." And joins in the magic with her fellow cast members and Disney Make-A-Wish alumni as Grand Marshals during the Festival of Fantasy Parade in honor of World Wish Day. Ali believes that seeing Disney "cast members grant wishes firsthand" is "something unique and something only Disney can do."
Creating Tasty Wishes
Stephie, a Pastry Sous Chef, has been profoundly impacted by Make-A-Wish children. When a Make-A-Wish kid chose to fulfill their dream of being a Disney chef, Stephie was honored to help make it a reality. From teaching the Make-A-Wish child how to cook to making a special meal for their Disney visit, she feels "very blessed to have the opportunity to be involved in families' lives and bring joy to someone."
Wishes are at the core of Disney. And although the stories of Jerome, Stephie, and Ali might seem incredible, they are not uncommon. Thanks to our phenomenal cast members, Disney will continue to grant wishes because when you wish upon a star, your dreams come true. Learn more about Disney's wish efforts at wish.org/disney.