Opportunity and support go hand in hand for two Disneyland Cast Members, Haley and Joshua, who embarked on the Disney Aspire education program and quickly discovered they weren't alone. After signing up for their respective courses, the two friends learned they were both attending Wilmington University at the same time and could help each other navigate school and work.
Inspiration for Stepping into Disney Aspire
For Haley, working with Joshua on the Tomorrowland attractions team fostered a passion for mentoring and coaching, inspiring her to pursue a career in management. Looking for the next development opportunity, Haley researched Disney Aspire MBA offerings, which include a wide variety of specialties. She knew that a focus in Organizational Management would give her the skills needed to grow in her role as a leader.
"I always told myself if I went back to school, I would do it while I was working," Haley stated. "I had tons of questions, but for each one, Disney Aspire had the answer. It was flexible with my schedule and the funding was complete, even down to books and tuition. Knowing that, I decided not to wait and jumped on the opportunity!"
Haley's friend and mentor, Joshua, a Senior Business Technology Specialist found a different opportunity through Disney Aspire–a second chance at finishing his bachelor's degree. With financial support from Disney, Joshua was able to realize a dream that once seemed unattainable. He credits his career success to the program and some extra encouragement from Haley.
"I met Haley back in 2015," Joshua recalled. "I helped mentor her into the position she's at now. We started pursuing Disney Aspire separately, but once we found out we were both going back to school we kept cheering each other on saying 'we can do this,' 'we can achieve this.'"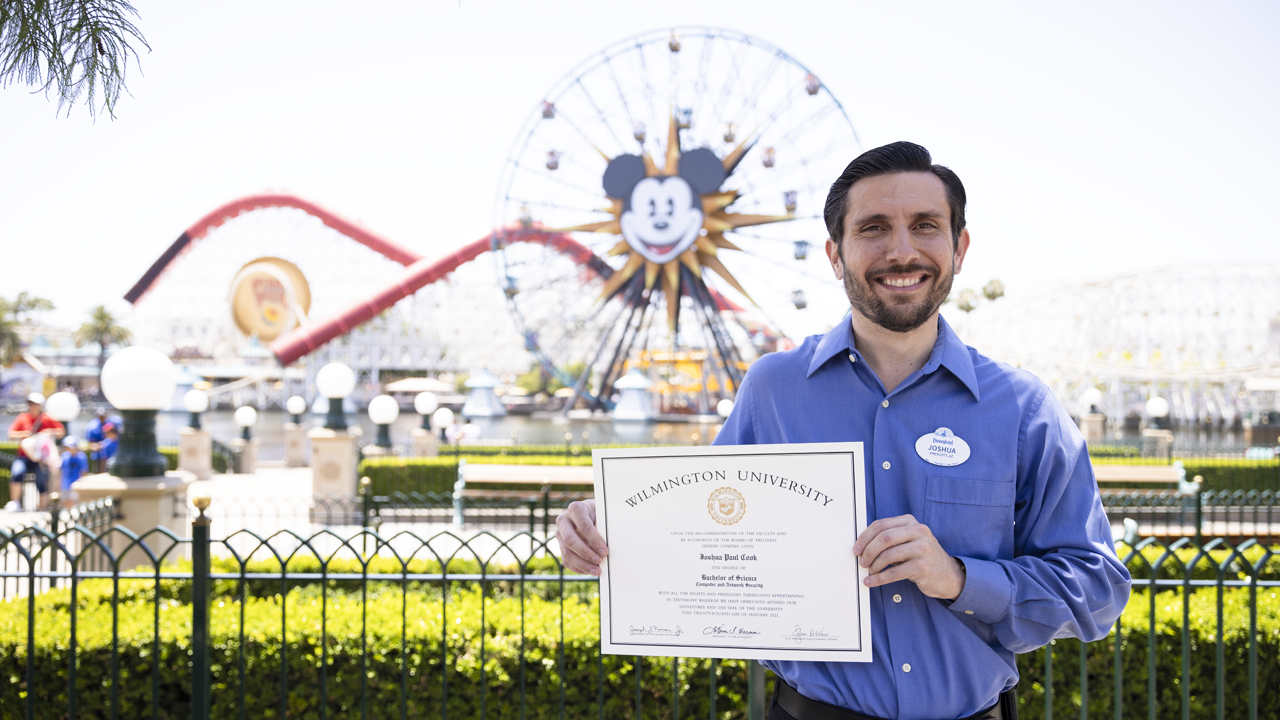 Working fulltime and earning a degree, all while maintaining a personal life, had its ups and downs, but the reassurance that Haley and Joshua gave each other helped them make it through the program to all the way to graduation. "When I found out he was going for Disney Aspire I was so excited," Haley exclaimed. "I told Joshua when we're done with this, we're going to graduation together. At graduation I remember Joshua saying that we did it, we made it, here we are. It made it so surreal being there in person."
Joshua shared a similar sentiment and credits Haley for encouraging him to join her in person at the graduation ceremony. "When we realized we were graduating on the same day Haley suggested we attend," Joshua said. "Having that entire journey together and then graduating together was the icing on the cake."
Cast Member Life After the Disney Aspire Program
Since graduation, Haley has used the leadership skills and management expertise she gained through her studies to enhance her day-to-day performance, including in her new role as Stage Manager, Adventureland and Frontierland Attractions.
"The things I learned through the program helped me in so many ways," Haley stated. "I've tailored how I lead, the way I make presentations, and the way I conduct myself with fellow Disney leaders."
Joshua also furthered his career thanks to his new degree. He now helps to preserve the magic for Disneyland guests by making sure the technology in the parks and on their mobile devices is seamless in order to create a fun and innovative experience for all.
"Being able to graduate with honors gave me the ability to further advance my career at Disney," Josh said. "I don't think I would have the position I have now if it wasn't for the education Disney provided me with through the Aspire program."
Have questions about Disney Aspire? Find all the answers you need in our comprehensive Frequently Asked Questions section.