Aulani, A Disney Resort & Spa cast member Kuanoni Kaniaupio-Crozier gazes around The ʻŌlelo Room, the resort's lounge dedicated to the Hawaiian language. Lining the walls are gorgeous wooden shadow boxes with sculptures of various items, people and animals, labeled with their Hawaiian language word.
Castle – kākela. Dolphin – naiʻa. Mouse —ʻiole.
"This is where it comes alive," Kuanoni murmurs. "This space represents so much progress in our effort to keep ʻōlelo Hawaiʻi going."
Ōlelo Hawaiʻi – the Hawaiian language. Once illegal to use, now flourishing once again in its native land. For Kuanoni and other ʻōlelo Hawaiʻi speakers, the revival of the language is a development to be savored in light of its past.
February marks Mahina ʻŌlelo Hawaiʻi, Hawaiian language month, and Aulani Resort is celebrating with a series of events and activations designed to increase awareness and appreciation for the language among guests and Disney Vacation Club Members, cast and the community.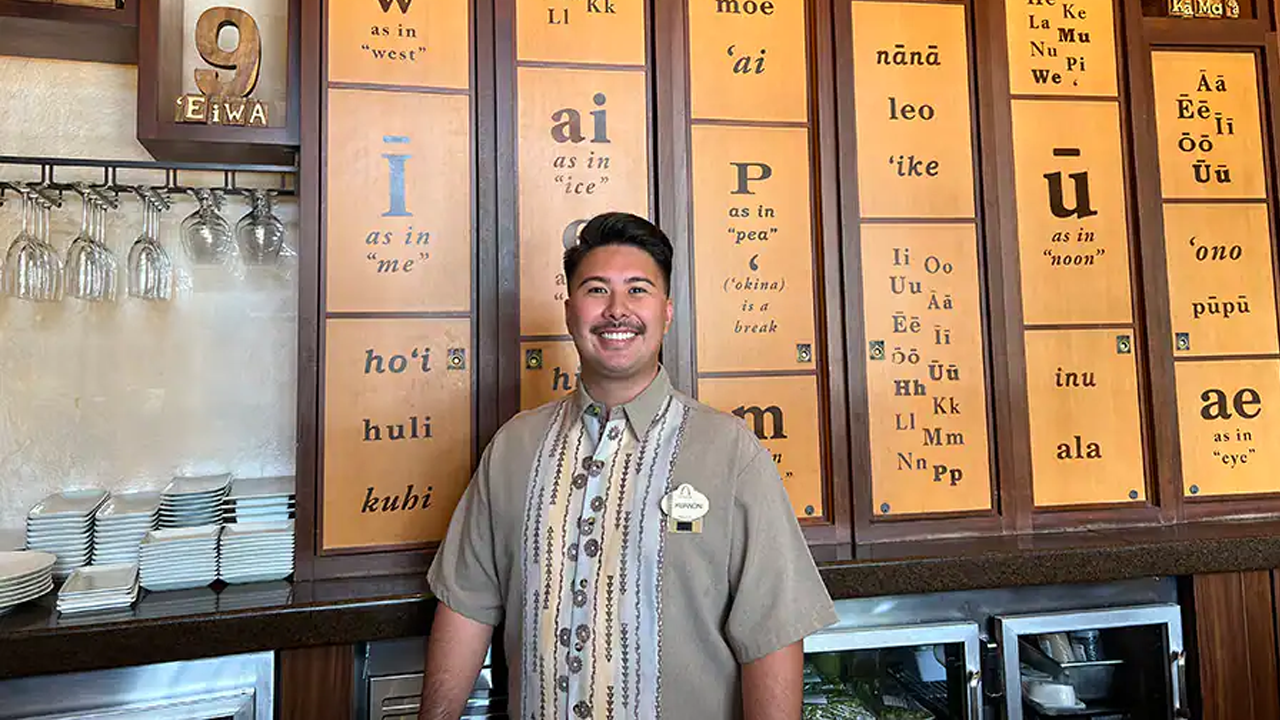 There will be readings of Hawaiian stories, or moʻolelo, in the lobby, demonstrations of how native Hawaiians interpreted the various phases of the moon, and a community showing of the movie "Moana" in ʻōlelo Hawaiʻi, all geared toward spreading knowledge of the language and encouraging its use in everyday life.
Kuanoni, a bartender at The ʻŌlelo Room, speaks Hawaiian, just like every cast member who works there. A dedication to the language was instilled in him at an early age, and he has volunteered to spearhead Aulani Resort efforts to promote Mahina 'Ōlelo Hawaiʻi.
"My personal journey with ōlelo Hawaiʻi started at home," Kuanoni said. "My parents both spoke Hawaiian, and it was the primary language of our family. There wasnʻt a choice about whether to learn it or not – and I'm better for it. My entire world revolved around Hawaiian knowledge in some way. By day, I was going to an immersion charter school and working a loʻi (taro patch) with my dad. In the evenings I was dancing hula, and on Sunday I was attending church in ōlelo Hawaiʻi."
But access to the Hawaiian language wasn't always easy. When the Hawaiian monarchy was overthrown in 1893 by American forces, ōlelo Hawaiʻi was banned. No language other than English was allowed in schools and public places. By the 1960s, only an estimated 2,000 people spoke Hawaiian and the language was on the brink of extinction.
A resurgence of Hawaiian culture and traditions began in the 1960s and 1970s, and in 1978, the Hawai'i Constitutional Convention restored Hawaiian as an official language.
Hawaiian immersion schools were established, allowing the restoration of ʻōlelo Hawaiʻi in communities across the islands. According to the U.S. Census Bureau, there were an estimated 18,000 Hawaiian speakers as of 2015. 21 of them are cast members at Aulani Resort.
Kuanoni believes the revival of the Hawaiian language has made it more important to celebrate things like Mahina Ōlelo Hawaiʻi.
"Personally, I feel that Mahina ʻŌlelo Hawaiʻi celebrates and reaffirms that our language lives on today, and more importantly, it honors those kūpuna (elders) who have taken part in passing ʻōlelo Hawaiʻi to all of us despite the adversity they faced."
For Kuanoni, it is especially gratifying to work in a location that celebrates the Hawaiian language and educates guests year-round, but he's especially fond of Mahina Ōlelo Hawaiʻi and how it focuses attention on his beloved ʻōlelo.
"I'm excited to celebrate and to share this message within our company," he said. "Our cast events are always my favorite because they create lasting change here at Aulani Resort that will continue to make an impact."