Though it's not easy to recover from a career disappointment, new opportunities are often waiting around the corner. Just ask Jennifer, who evolved from a cast member in Adventures of the Little Mermaid to an administrative professional, to now a leader focusing on the learning and development of fellow Cast Members… and all while being a full-time mom of two.
Years ago, while working toward a career in mental health counseling, Jennifer hit a roadblock when she was unable to secure an internship. Being a counselor had been her dream since childhood, so the setback seemed devastating. But after hearing about Disney Aspire, The Walt Disney Company's education investment and career development program for hourly employees, she realized that the setback was a detour rather than a dead end.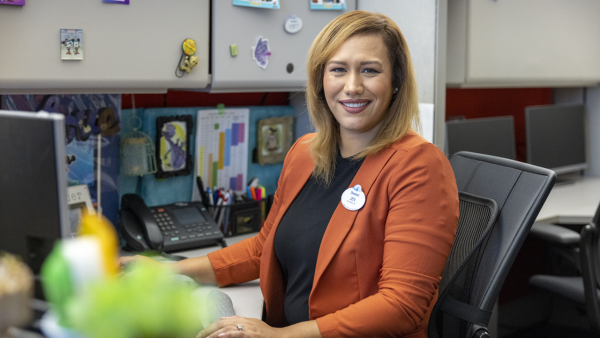 "Aspire gives cast members a second chance," said Jennifer. "I've had my heart broken, but I came to understand that was just one chapter in my story … certainly not the end!"
Taking advantage of the second chance Aspire granted her, Jennifer earned a master's degree in Industrial and Organizational Psychology from Bellevue University in May 2021. A Disney Cast Member for seven years and first-generation graduate, she transitioned to a new role helping lead classes and leadership training for cast members at Disney University.
As an Aspire alumni, Jennifer mentors fellow cast members considering the program, volunteering her time and sharing her experience about the process, challenges and resources available. In consulting with prospective and current students, she collects ideas and questions for Aspire leaders, which helps the team continually update and improve the experience for cast members.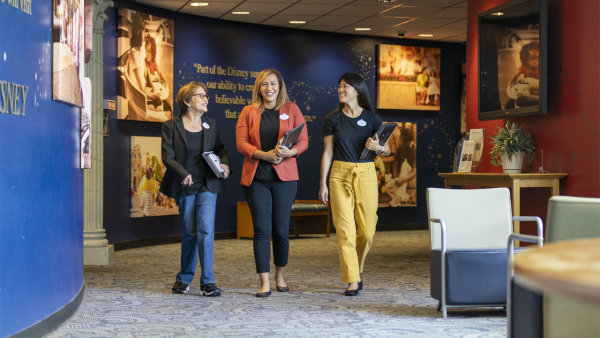 "One of the most remarkable things about the Aspire program for me was how much support is available, from the Aspire team, the Guild coordinators, the universities and fellow cast members," she said. "I've had Zoom sessions with other folks in Aspire where we share what we're working on, which leads to someone offering to be interviewed for a research project or help someone else study. It's amazing the way we're all helping to build this success together."
With the new paths and interests Aspire has opened to her, Jennifer is glad she endured the heartbreak that led to this second chance.
"I absolutely love what I'm doing now. There's never a day when I don't want to come to work, because this is work that I love," said Jennifer. "That's what Aspire can do for you – give you the chance to find your passion."