At The Walt Disney Company, magic can be found no matter the role or stage of one's career. For Cast Members like Maria, a Marketing Strategy Associate at Disney Institute, that same Disney magic has given her the courage to dream and learn—and it's been part of her life since her earliest memories. Disney's support of Maria's education has carried on through adulthood, as she's furthered her professional and personal goals thought a fully paid tuition program called Disney Aspire.
Keeping it in the Family – A Disney Legacy
As a kid, Maria considered Disney World her second home. EPCOT was an escape and -a place where she could learn about different cultures, like the Phoenicians who created the first alphabet. Other vivid memories include strolling with her family through the China Pavilion, enjoying croissants at Monsieur Paul in the France Pavilion, and marveling at Gallery of Arts and History in the Morocco Pavilion. But most important, she remembers how the parks brought her family together. Disney World was also special to her parents, who worked at Disney in the 1980s helping guests learn about the world while visiting the EPCOT Pavilions or on tours throughout the park. This love for learning later led Maria to Disney Aspire, a life-changing program offered to hourly cast members that helps them pursue their educational goals with 100% tuition covered. She followed her passion for learning and culture and obtained a degree in Educational Psychology.
Building a Disney Career
Disney continued to play a special role in Maria's life after she chose to "follow in the footsteps of her parents," and "make magic in a way my [parents] did many years ago. She joined the Disney family by way of the Disney College Program and later became a Delivery Coordinator with Disney Institute. But her desire for learning did not stop. Not only did she become first person in her family to graduate from undergraduate, but Maria also received a graduate degree through Disney's education program. When Disney launched the education program, it gave Maria an avenue to apply to school, and gain support and counseling from Disney Aspire advisors. As a first-generation college graduate, there could have been many challenges, including the cost of tuition, books and more. But Disney covered her costs, including books so she could focus on achieving her degree.
The Disney Aspire Program covers tuition costs upfront for a wide range of degree and certificate programs, from high school diplomas to master's degrees. In addition, it provides various resources to help cast members succeed, including academic advising, career coaching and online learning tools. It wasn't always easy balancing school, work, and family responsibilities, but Maria embraced the challenge and with the resources and encouragement provided through the Disney Aspire program, graduated with a 4.0 GPA and a Master of Science in Educational Psychology from Purdue Global University.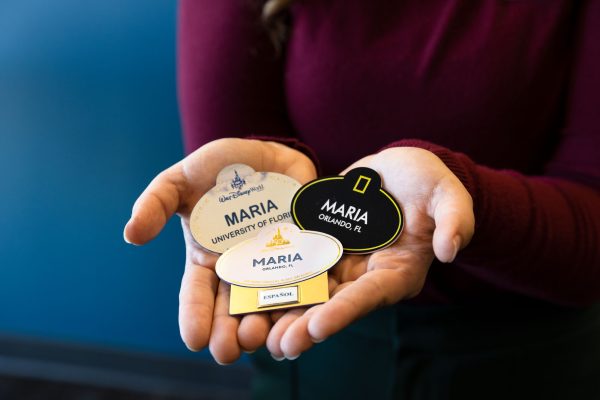 Empowering our Cast Members
Disney's education benefits are about more than just helping Cast and employees further their careers. They're about empowering them to grow, achieve dreams and create future opportunities. Maria is now part of a growing community of cast members who proudly serve as role models for first-generation students seeking a way to higher education. With Disney Aspire, Cast Members can achieve a debt-free education. Obtaining a master's degree is truly a magical accomplishment that can help you achieve your career goals and Disney is committed to providing educational opportunities for its cast members.
Have questions about Disney Aspire? Find all the answers you need in our comprehensive Frequently Asked Questions section.