As the Walt Disney World Ambassador Team, we often find ourselves figuratively running around the resort celebrating our more than 70K cast members and living our best #DisneyCastLife every step of the way; but this weekend, we literally hit the pavement and joined runners for the Disney Wine & Dine 5K.
While runDisney events are part of Ali's wellness journey in recent years, this was Raevon's first runDisney race weekend and second 5K ever. As we reflect on all the run-derful fun, here are some moments that continue "running" through our heads:
Cast Members Seizing Their Moment
Did you know hundreds of cast members bring these magical runDisney races to life? From all the event planning in preparation to handing out race bibs and cheering runners as they cross the finish line, cast from across our resort work together to make this experience uniquely Disney for both first-time and seasoned runners. This race was no different, and a huge thank you to all the cast members who made every mile magical this weekend.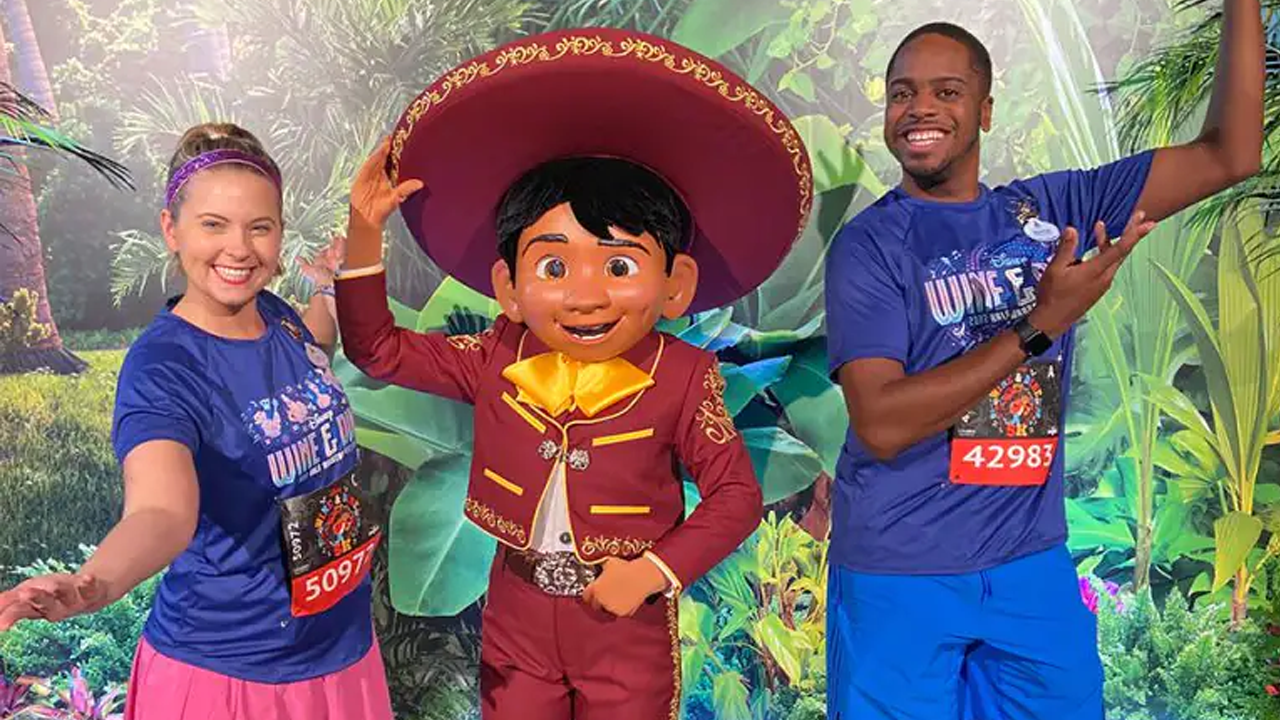 Running the Course with Sanya Richards-Ross
After visiting the runDisney Health & Fitness Expo at ESPN Wide World of Sports Complex, we had the great honor of meeting four-time Olympic gold medalist, Sanya Richards-Ross, who also ran her first 5K and runDisney race … just like Raevon! As a sprinter, Sanya shared her excitement about joining the runDisney community and trying something new in her wellness journey. Bonding instantly over their runDisney "newbie" status, Raevon and Sanya turned to Ali for advice and inspiration, which was "hydrate and have fun!"
And have fun, we did! Sanya ran alongside us throughout the entire course. She even stopped for a photo with some Disney characters and shared how special cast members made her feel during her first runDisney race – just another reason these races are extra special and popular with runners around the world.
Crossing the Finish Line Together
There's no greater feeling than crossing the finish line of a runDisney race, especially as a team. The moment Raevon received his medal, he knew three things:
He just ran 3.1 miles!
He completed the race with his fellow Disney Ambassador and with an Olympic Gold Medalist. Bucket list item = complete!
It was time for a well-deserved nap.
Cast members and guests who participate in runDisney events are immediately welcome into a community of passionate Disney fans who are always looking forward to the next race, and this is no exception for us. Can Ali persuade Raevon to take on a 10K? Stay tuned to @wdw.ambassador on Instagram to find out.
For now, we look forward to participating in our next 5K – the Disney Be Well Cast, Friends and Family 5K on Dec. 4 at Disney's Animal Kingdom. We'll see you on the course!