Working at Disney is so much more than a job. Disney is a calling to be part of something extraordinary, something magical, something incredibly unique. Those who work for Disney have a shared sense of commitment to deliver the most imaginative and memorable experiences possible. They work together to build lasting emotional connections between Disney fans and our brand, contributing to Disney's status as the world's premier entertainment company.
Disney is where creativity meets opportunity. It's where careers are a journey of accomplishments and shared celebration, and where everyone belongs. Disney helps our Cast, Crew, Imagineers, and employees realize their dreams and aspirations through customizable programs and distinctly Disney experiences.
Our company is committed to serving our fans, guests, and communities, and thrive on new ideas. We're proud of our heritage and know our best days are always ahead. Disney is special because of our boundless imagination and dedication to excellence. We call it magic.
We work. We play. We imagine. We create memories, together.
Visit Disney Cast Life on Disney Parks Blog to learn more about the magic our cast members make every day.
When Magic Kingdom Park opened in 1971, approximately 5,500 cast members worked at Walt Disney World Resort. Today, the company employs 75,000 cast members making Disney the largest single-site employer in the United States and in the state of Florida.
In March 2012, the Walt Disney Company launched Heroes Work Here at Walt Disney World Resort, an innovative company-wide initiative to hire, train and support returning veterans. A notable portion of the 12,500 veterans hired are employed by Disney businesses throughout Florida.
Since its debut in 2018, Disney Aspire has enabled thousands of part-time and full-time hourly Disney employees and cast members the opportunity to pursue their dreams by providing 100% tuition paid up front at a network of learning partners and universities. Learn more about Disney Aspire.
Eligible cast members have access to benefits for every life stage, such as fertility and adoption services, parental leave options, and additional family support resources, including legal assistance, caregiving, and financial wellness among others. Onsite and/or community-based, low-cost and backup childcare options are available to eligible U.S. cast members.
From internships and entry-level positions to kickstart a great career, to creative, technical, and leadership roles, cast members have opportunities to find the path that is right for them. We offer career planning guidance and ways to explore new avenues through apprenticeship programs, certificate courses, mentorship and more.
Walt Disney World cast members volunteered 233,000 hours through the Disney VoluntEARS program in 2022. Disney has provided millions of volunteer hours to nonprofit organizations throughout Florida during the past five decades.
Compensation and Benefits
Disney offers a competitive total rewards package that includes pay, health and savings benefits, time-off programs, educational opportunities and more. Together, these rewards make up a comprehensive package that helps our employees and cast members live their best life, grow personally and professionally, and take advantage of the special extras that only Disney can provide. In Florida, Disney was one of the first companies to reach a $18 per hour starting wage.
The Heart of Walt Disney World
Walt Disney World Ambassador Team
For more than five decades, Disney Ambassadors have had the privilege of donning the iconic gold pin each day and representing the magic of Disney that has symbolized hope for people near and far.
This cast member tradition dates to 1964 when the tenth anniversary of Disneyland park was fast approaching. To celebrate the milestone and recognize the talented cast members at the theme park, Julie Reihm, a Disneyland cast member, helped Walt Disney represent the park. That tradition continued in Florida when Walt Disney World Resort opened in October 1971.
Today, a team of two Disney Ambassadors serves as a two-year term, where they inspire a sense of pride in what it means to be a Disney cast member, foster an inclusive and fun workplace fueled by diversity, promote key company initiatives that inspire action, and positively impact youth and families in the community through outreach efforts.
Our Cast in the Community
Volunteerism is a central and enduring part of our company's culture and the cornerstone of our community engagement efforts. By donating their time and talents, Disney VoluntEARS provide comfort, happiness, and inspiration to kids and families around the world.
Our employees and cast members contribute thousands of hours of service each year, providing their unique professional skills and positively impacting the communities where they live and work. In 2022, Walt Disney World cast members volunteered 233,000 hours through the Disney VoluntEARS program.
Through the Disney VoluntEARS Grants program, cast members and employees can turn their hours of volunteer service into a financial contribution to a charity of their choice.
During the 50th Anniversary celebration, we held the 50 for 50 Disney VoluntEARS Challenge for our Disney VoluntEARS who go to "infinity and beyond" in their communities. This cast-exclusive challenge awarded Walt Disney World cast members who volunteered 50 hours and attended 50 VoluntEARS events before the end of the celebration with specially-themed EARidescent commemorative items.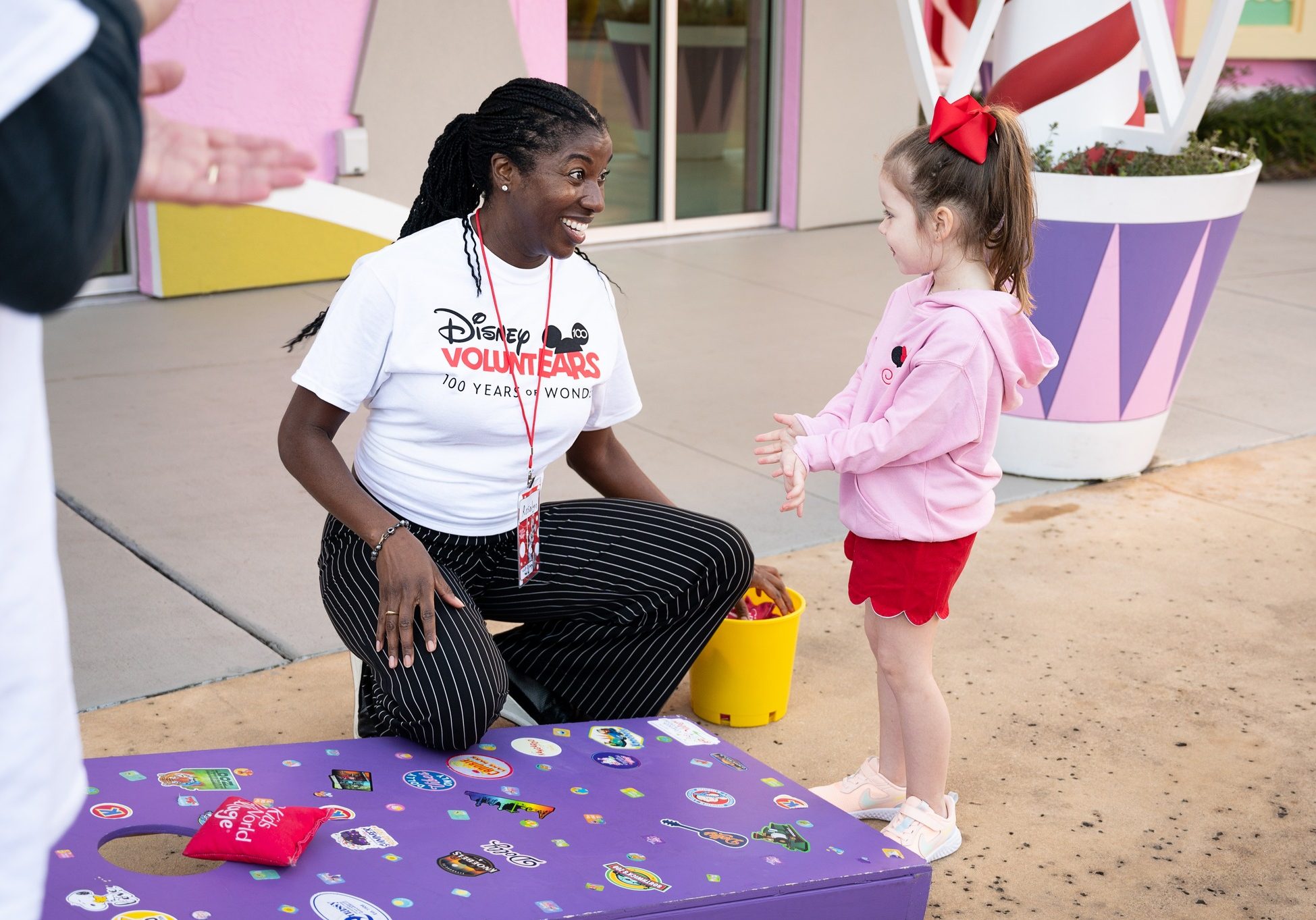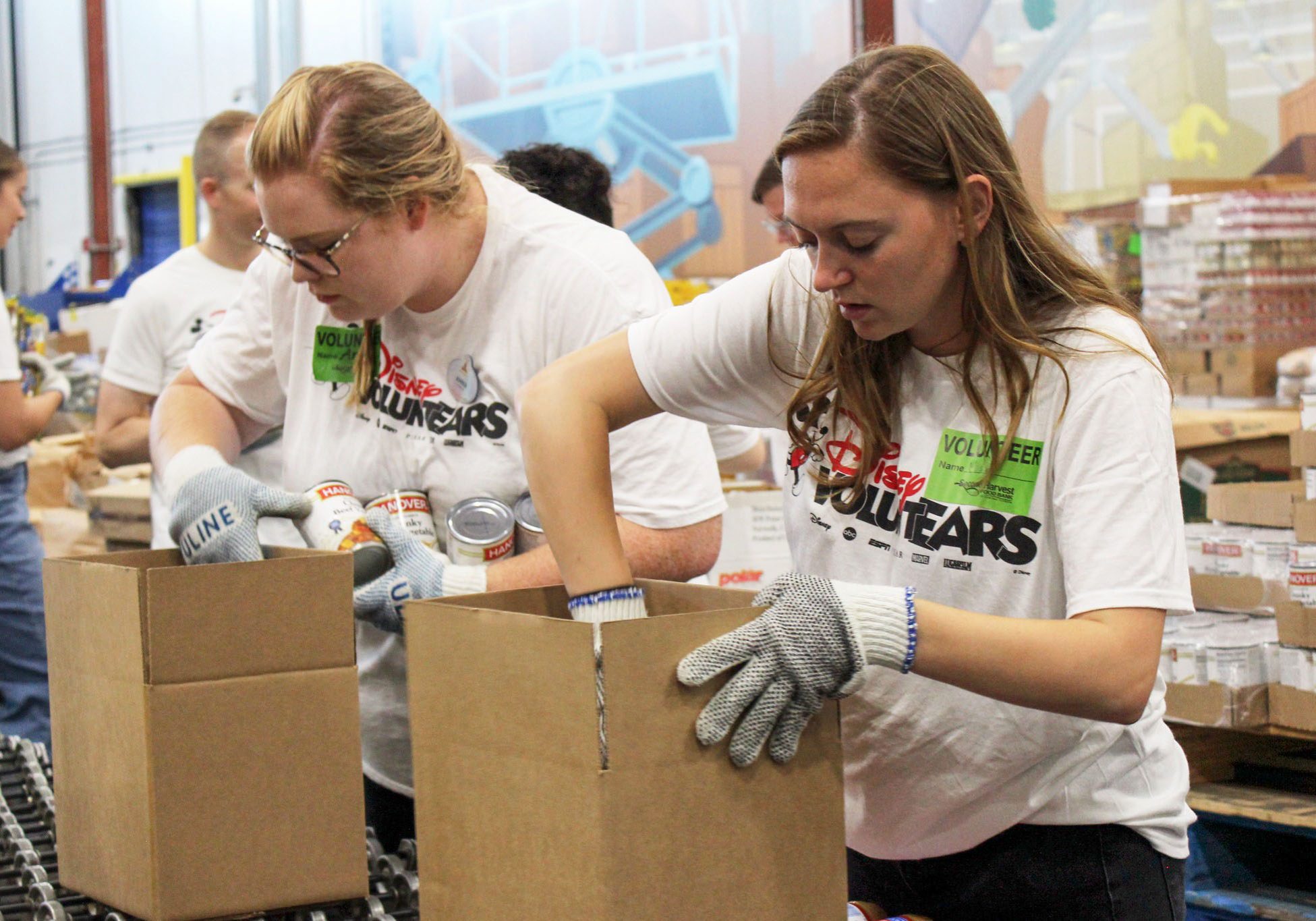 A groundbreaking education investment program is available to all eligible US-based regular full-time and regular part-time hourly Disney cast members and employees at Walt Disney World Resort. With Disney Aspire, 100 percent of cast members' tuition will be paid by the company up front.
To make learning accessible and easy, a variety of online educational courses is offered across a network of schools—including multiple education and degree options, vocational training, high school equivalency and more.
Currently, there are more than 14,000 students enrolled in the Disney Aspire program, and more than 3,500 current employees have graduated since the program launched in 2018. There are 2,800 students and graduates who have been internally promoted thus far across The Walt Disney Company.
At Disney Parks and Resorts, the addition of an Inclusion Key guides our renowned approach to service and demonstrates our deep commitment to making everyone who experiences Disney feel welcome. This approach provides flexibility with respect to forms of personal expression surrounding gender-inclusive hairstyles, jewelry, nail styles, tattoos, and costume choices. These policies enable our cast members to better express their cultures and individuality at work.