The Department of Defense (DoD) Warrior Games is an annual celebration of resilience, honoring the dedication and sacrifice of active duty and veteran U.S. military members. This event unites athletes from throughout the military, showcasing their commitment to overcoming physical challenges and thriving in the face of adversity.
With a long-standing history of honoring the U.S. military, The Walt Disney Company is thrilled to welcome the DoD Warrior Games back to Disney World in 2024 after proudly hosting the event in 2022.
Disney's admiration for military service dates back more than 100 years to founders Walt and Roy Disney's own service to their country during World War I. This enduring tradition continues today as The Walt Disney Company is a leading proponent of hiring, training and supporting military veterans with the Heroes Work Here initiative, the Heroes Supply Here program and Disney's Veterans Institute.
Find out more about what the DoD Warrior Games have to offer below.
What are the DOD Warrior Games?
Established in 2010, the Warrior Games provide a venue to showcase the exceptional physical skills and mental toughness of wounded, ill and injured active duty and veteran service members through adaptive sports competition. The event is designed to enhance recovery by engaging wounded warriors outside of their traditional therapy settings while highlighting the resilience embodied by military service members. The games are a joint effort between the Department of Defense and the U.S. Olympic and Paralympic Committee.
The adaptive sports program is just one facet of the continuum of recovery and care that active-duty and veteran warriors receive from the DoD Warrior Care program.
Throughout the games, hundreds of elite athletes, including those from international and allied nations, compete in adaptive sporting events such as wheelchair basketball, cycling, sitting volleyball and others.
Beyond athletic excitement, however, the DoD Warrior Games also provide participants with a platform to inspire others with their stories of perseverance. With its unique combination of camaraderie and sportsmanship, the DoD Warrior Games allow the strength and unity found within the military community to shine bright.
Looking back: 2022 DoD Warrior Games at Walt Disney World
The 2022 DoD Warrior Games at Walt Disney World created lasting memories for guests and athletes alike, and these memories set the stage for the event's thrilling return in 2024.
Hosted at the Resort's ESPN Wide World of Sports Complex in Orlando, the 2022 games featured nine days of competition with nearly 300 participants from the U.S. military, as well as athletes from allied nations.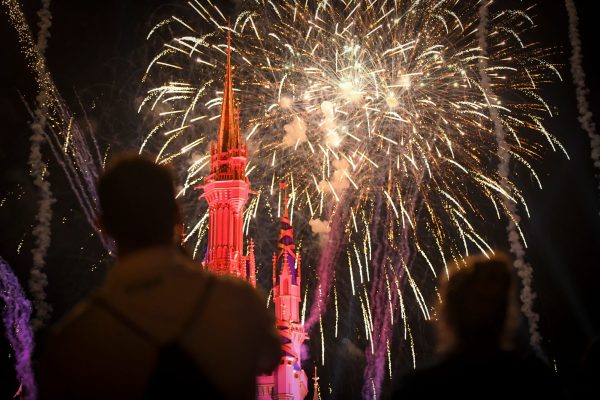 Prior to the Warrior Games commencing, participants and military families received a warm welcome in Magic Kingdom with a special parade hosted in their honor. Here, athletes each had a chance to carry the Warrior Games torch on the parade route, as families, guests and Disney Cast Members lined the streets to cheer them on. The special day culminated with an unforgettable evening party in the park presented by the Fisher House Foundation.
An opening ceremony, hosted by comedian Jon Stewart, kicked off the games the following day. The event included inspirational remarks from many, including country music star Darius Rucker, and Disney Parks, Experiences and Products chairman Josh D'Amaro.
Following the opening celebration, the games began with intense competition in wheelchair basketball, indoor rowing, cycling and more. The games' closing ceremonies celebrated the spirit of resilience, camaraderie and healing followed by a memorable performance by music act American Authors.
Which adaptive sports are involved in the DoD Warrior Games?
The DoD Warrior Games feature a wide variety of adaptive sport competitions, which help improve the physical and mental wellness of wounded, ill and injured service members during their recovery. Here's a look at the tournaments guests can expect while cheering on their favorite veteran athletes.
Archery
The Warrior Games archery tournament challenges athletes to harness their eagle-eye accuracy as they compete against one another in an 18-yard target-shooting competition using either a compound or recurve bow.
Cycling
Split into two main events, a road race and time trials, the Warrior Games cycling competition taps into the strength, endurance, and strategic thinking of participating athletes. Athletes are free to join one or both cycling competitions and are assigned a cycle type tailored to their needs.
Golf
This competition sees veteran athletes demonstrating their golf skills in a competition that's both timeless and traditional. Teeing locations are adjusted based on the athlete to create a level playing field for all athletes regardless of their injury or illness.
Indoor rowing
Yet another test of both strength and endurance, the Warrior Games indoor rowing competition is split into two events: a one-minute sprint and a four-minute race. Veteran athletes can choose to compete in just one rowing event, or in both.
Powerlifting
This straightforward event manifests as a bench-press competition where athletes are granted three attempts to push their lifts to the limit. The competition is split into seven body weight categories, and male and female participants compete separately.
Precision air sports
With eyes on the prize, veteran athletes hone in on an electronic target using either an air rifle or an air pistol, depending on their event of choice. The competition features both standing and prone air rifle events, along with a single air pistol event.
Sitting volleyball
Sitting volleyball at the DoD Warrior Games offers a dynamic twist on the traditional sport. Athletes engage in intense rallies, spiking and serving while staying in a seated position. The popular event demands strategic positioning, quick reflexes, and effective teamwork to come out on top.
Swimming
The Warrior Games swimming competition features five different events: 50-meter and 100-meter freestyle races, 50-meter breaststroke and backstroke races, and a 200-meter relay featuring four-person teams.
Track and field
Track and field events at the DoD Warrior Games include a range of track-based competitions, like sprints and relays, as well as field events like shot put. These events provide an opportunity for competitors to show off their speed, strength, and agility.
Wheelchair basketball
Blending athleticism with team strategy, wheelchair basketball involves specially designed wheelchairs. Teams coordinate offense, show off their dribbling techniques, and offer a dynamic, fast-paced display of sportsmanship and teamwork. The sport challenges participants' physical limits while building camaraderie between players.
Wheelchair rugby
Just like wheelchair basketball, the Warrior Games wheelchair rugby competition delivers the same high-octane play you'd expect from the traditional version of the sport. Throughout the tournament, teams go all-out as they seek to earn the competition's bronze and gold medals.
The 2024 DoD Warrior Games, hosted by Walt Disney World
The DoD Warrior Games will return to the ESPN Wide World of Sports at Walt Disney World Resort in 2024, granting guests the opportunity to witness several days of electrifying athletic excitement. Be on the lookout for more announcements regarding the event's return from the U.S. Army Training and Doctrine Command, or learn more about the DoD Warrior Games in the meantime.