Disney and the Make-A-Wish Foundation have been bringing dreams to life and putting smiles on the faces of countless young people and their families for more than 40 years. Together, we've worked to create magical, life-changing moments for children facing critical illnesses. In keeping with this tradition, Walt Disney World hosted an all-day celebration for Make-A-Wish families on August 25.
The Once Upon A Wish Party, the first-ever wish-granting event of its kind, created an unforgettable experience for Make-A-Wish families built on Disney's signature storytelling magic.
First, let's explore the profound impact the Make-A-Wish Foundation has had on families over the years — and, in turn, how Disney has nurtured the Foundation's mission.
What is Make-A-Wish?
The Make-A-Wish Foundation is a nonprofit organization dedicated to creating lasting, meaningful memories by granting wishes for children with critical illnesses. Founded in 1980, the foundation aims to bring joy into the lives of those who need it most and give families a moment of respite from the challenges they face.
Throughout the years, Make-A-Wish has partnered with companies and organizations across the country to help transform wishes into reality. The Walt Disney Company is proud to be among those partners that aim to create real-life magic day in and day out.
How Make-A-Wish and The Walt Disney Company work together to make magic happen
Disney's long history with Make-A-Wish is a testament to the company's passion for creating magical moments. In fact, Disney is the Make-A-Wish Foundation's #1 wish granter. For more than 40 years, Disney Cast Members, Imagineers and employees have worked to bring more than 150,000 wishes to life while forging a partnership that continues to spread joy to those who need it most.
The perennial creativity of Disney makes the magic happen. Whether a wish is for a trip to a Disney theme park or a personalized meetup with beloved characters, Disney creates timeless memories. This ongoing collaboration continues to bring light into the lives of children facing difficult circumstances, uplifting their spirits with unforgettable experiences.
Among the Make-A-Wish Foundation's many champions at Disney is Josh D'Amaro, Chairman of Disney Parks, Experiences and Products. After working with the foundation for many years, and recently joining the Make-a-Wish Board of Directors, Josh remains deeply involved in creating new ways to celebrate Make-A-Wish families.
One recent celebration, the Once Upon A Wish Party, was full of moving Make-A-Wish moments.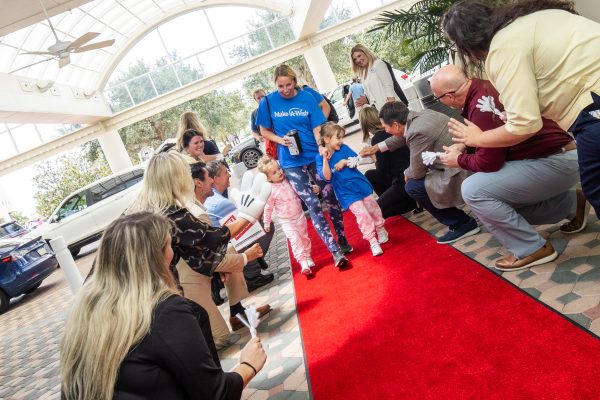 Disney's Once Upon A Wish Party
Disney's wish-granting efforts are ramping up again after being halted during the pandemic. And now, with many of the pandemic restrictions lifted, Disney's World Princess Week delivered an excellent opportunity to bring Make-A-Wish families an experience they won't forget.
A first-of-its-kind Make-A-Wish milestone, the Once Upon A Wish Party was one of the largest wish-granting events in the history of Disney's partnership with the Foundation. The all-day affair was filled with magical moments. Fifty Make-A-Wish families traveled from all over the country to savor the spirit of Disney and share in all the fun.
The day's delights included:
Welcome dining and tea party: A welcome dining experience and royal tea party launched the event on a high note, proclaiming every Make-A-Wish kid in attendance royalty for the day.
Royal Wardrobe: During the welcome breakfast, each child received their own Disney prince or princess costume complete with a crown donated by Disney Consumer Products, Games and Publishing (CPGP).
Character greetings: Make-A-Wish families immersed themselves in Disney's timeless tales as they met familiar Disney Princesses and other cherished characters in the Dream Parlors.
Royal Ball: The Disney Royal Ball (the party's main event) was an elegant affair with all the trappings of a classic Disney celebration: grand entrances, Disney princesses, dinner and dancing. Singer Mikayla Beatty, Disney's 150,000th Make-A-Wish kid, even appeared for a special performance.
If it sounds like a Disney dream come true, have no doubt — it absolutely was. And the decades-long partnership promises to regale even more Make-A-Wish princes and princesses.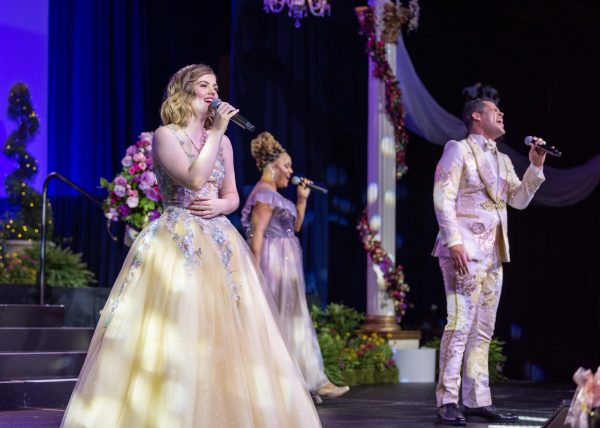 Disney and Make-A-Wish's Enduring Commitment
This year's Once Upon A Wish Party gave Make-A-Wish kids an experience unlike any other. The collaboration of Make-A-Wish and Disney offered a glimpse into the profound influence that's possible thanks to their decades-long partnership.
United in the shared purpose of bringing hope and inspiration to children in need, Disney and Make-A-Wish continue their mission to spread happiness, showing the potential that exists when compassion meets creativity.