Resort Reporter shares the impact of the Disneyland Resort, including the cast member experience, community updates and resort development news.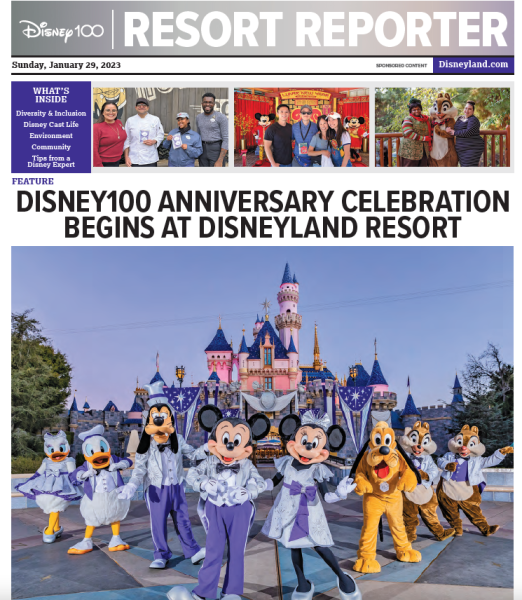 JANUARY 29, 2023
In this issue of Resort Reporter, the spotlight is platinum and purple with the launch of the Disney100 celebration at the Disneyland Resort, along with news of the recently announced guest experience enhancements. In addition, a cast member provides a personal look at the Lunar New Year festivities, the resort's Project Zero program is honored with a SEAL award, Disney VoluntEARS make a difference with the community workforce development initiative and the new Power of One series begins with a cast member who champions inclusivity.
---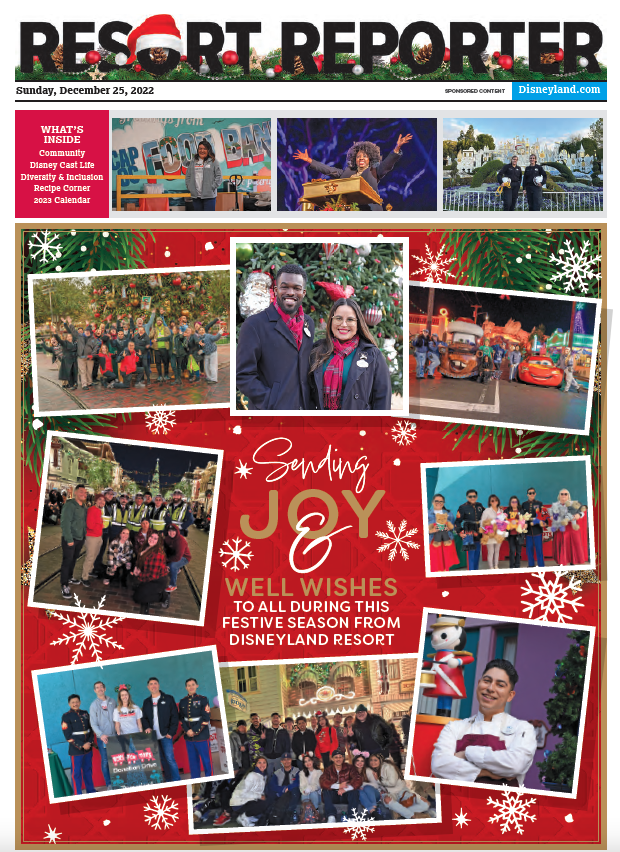 December 25, 2022
In the final issue of the year, cast members across the resort are wishing all a wonderful holiday season and New Year in this festive edition of Resort Reporter. In addition, a Disney Aspire grad received a surprise graduation celebration, Disney VoluntEARS reflect on the power of the community workforce development initiative, the tradition of the Candlelight Ceremony is explored through the eyes of the Cast Choir and much more!
---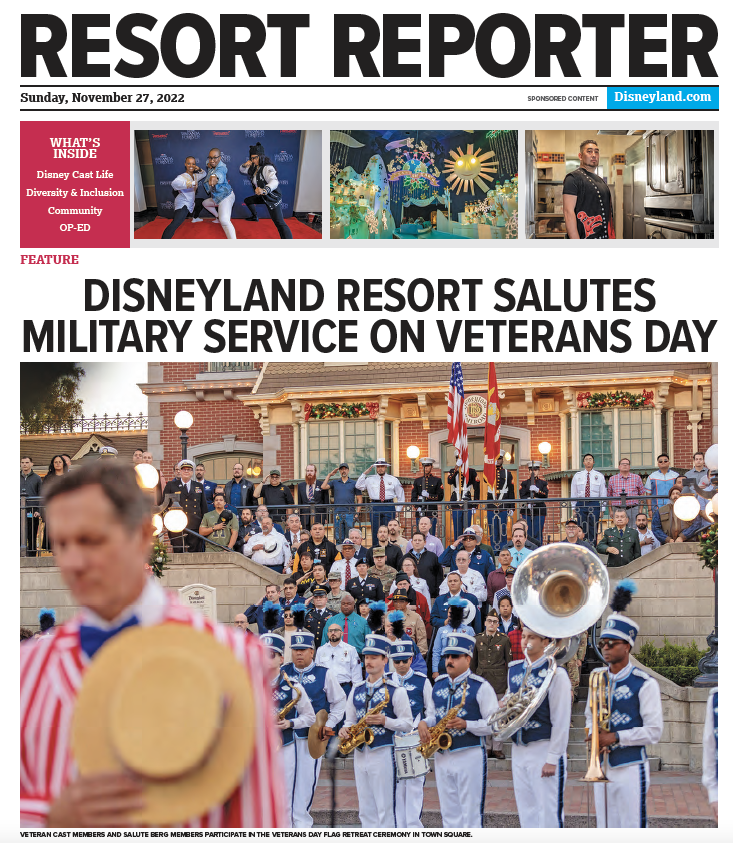 November 27, 2022
In this month's issue of Resort Reporter, our veteran cast members get the spotlight in honor of the resort's Veterans Day celebrations and the new additions of dolls who use wheelchairs at "it's a small world" are featured alongside the dedicated teams that brought them to life. In addition, read more about how our cast members celebrated the launch of 'Black Panther: Wakanda Forever' with advanced screenings of the film and rang in the return of holiday traditions at Disneyland Resort.
---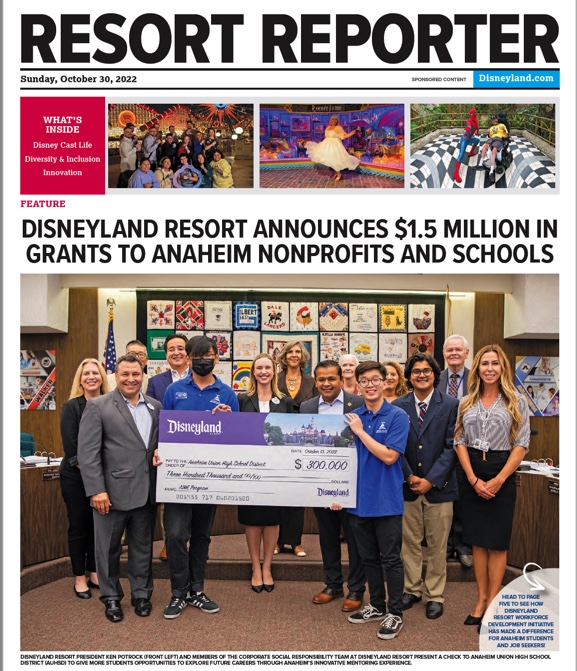 OCTOBER 30, 2022
In this latest edition of Resort Reporter, we announce an additional $1.5 million in grants going to Anaheim nonprofits and schools through our workforce development initiative, celebrate the arrival of MagicBand+ at Disneyland Resort, and highlight incredible cast stories, including a group from Resort Transportation & Parking who created a magical day for a guest with cerebral palsy.
---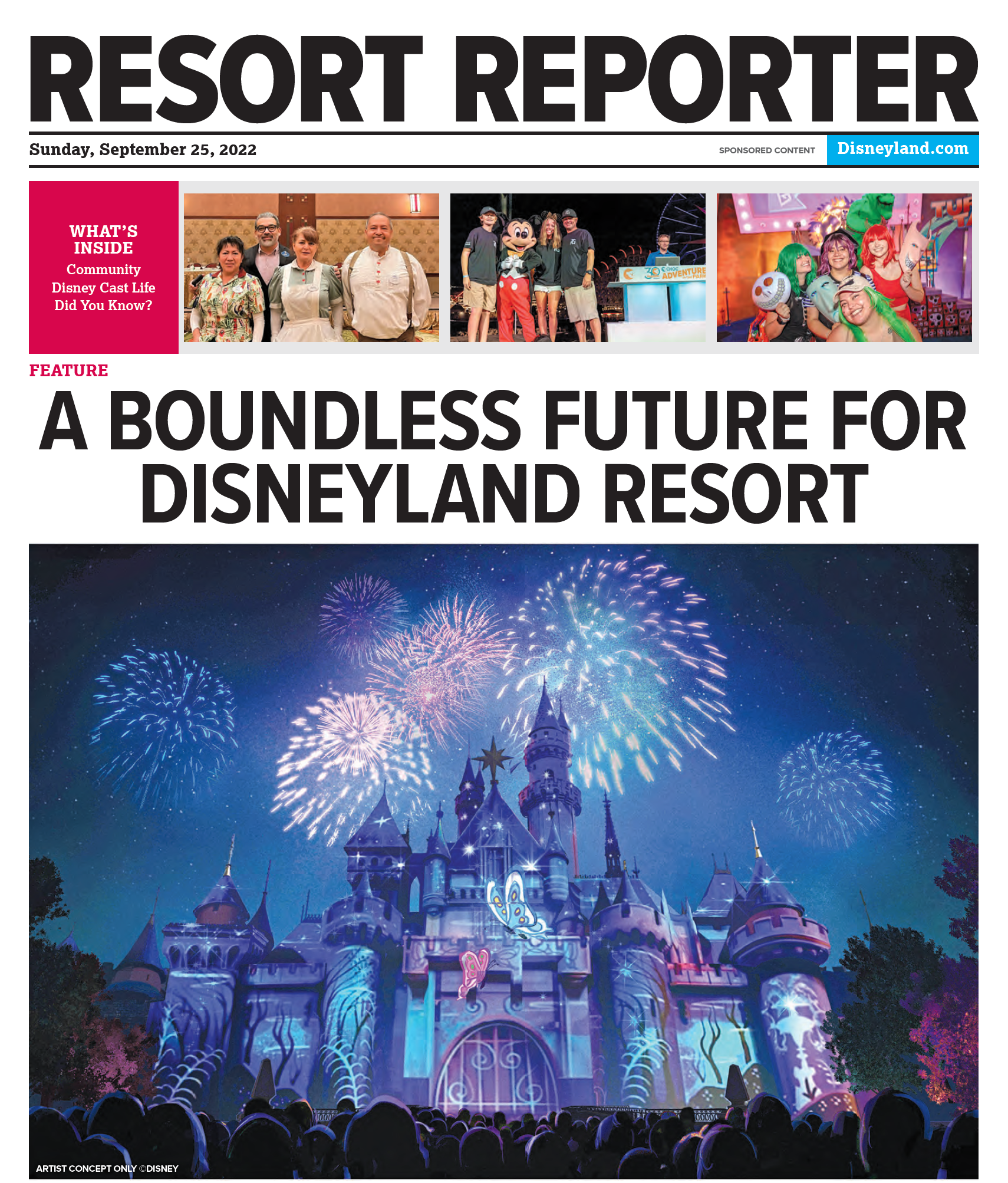 SEPTEMBER 25, 2022
This month, learn about the top 10 Disneyland Resort announcements from D23 Expo. Catch up with cast members who created Mei from Disney and Pixar's "Turning Red" to help fight hunger in Canstruction Orange County. Show some love for the housekeepers at the Hotels of Disneyland Resort during International Housekeeping and Environmental Services Week. Hear how cast members are taking advantage of the child care program, reaching their career goals with Disney Aspire and more!
---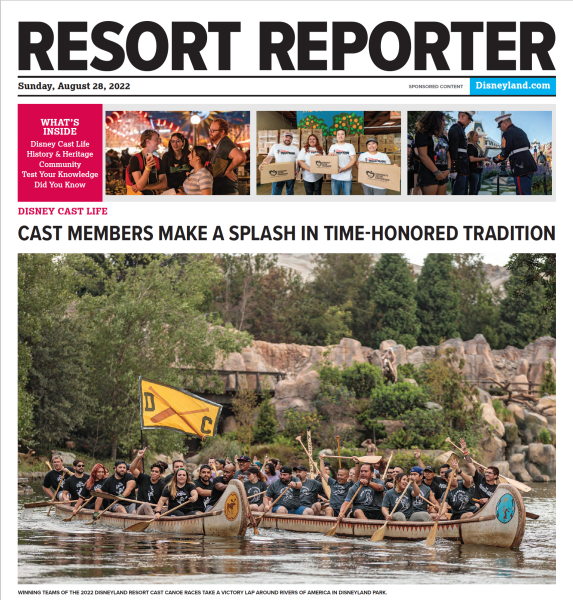 august 28, 2022
In this issue, cast members make a splash with the time-honored tradition of Canoe Races around the Rivers of America and solve clues at the annual after-hours scavenger hunt, Minnie's Moonlit Madness. In addition, Disneyland Resort supports local food banks with $100,000 donations and empowers Girls Inc. students for the workforce of their dreams.
---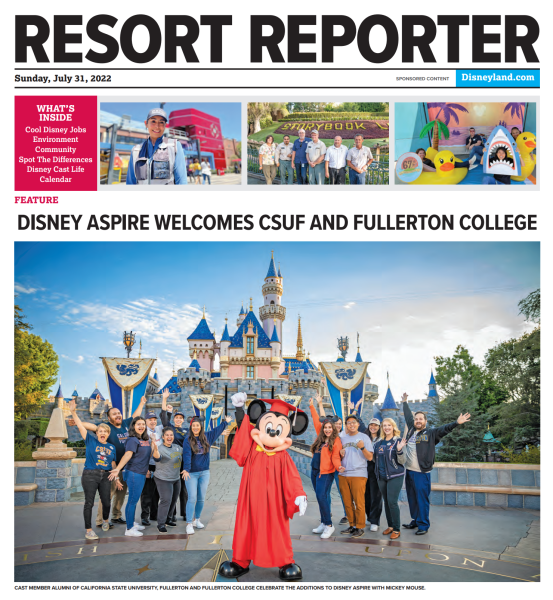 july 31, 2022
This latest edition of Resort Reporter kicks off with the exciting announcement of Cal State Fullerton and Fullerton College joining the Disney Aspire family, shares ways in which Disneyland Resort has given back to the community, celebrates the 67th anniversary with cast members and more!
---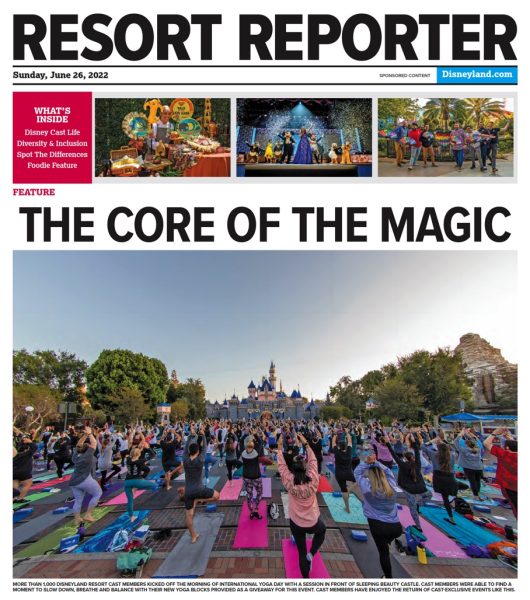 june 26, 2022
In this latest edition of Resort Reporter, we learn about enhancements to the cast member experience with Kris Theiler, VP, Disneyland Park. We also see how Disney Aspire created bonds from coast-to-coast, collaborate with Girl Scouts of Orange County through workforce development, use the "Force" with cast members at Star Wars Celebration 2022 and more!
---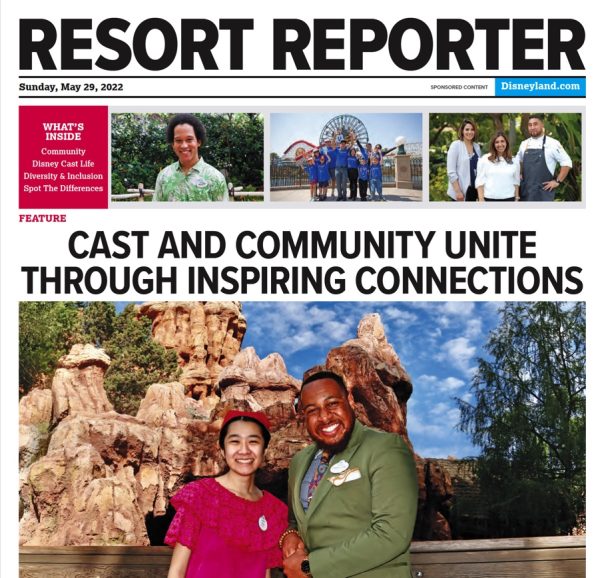 MAY 29, 2022
Learn how Disneyland Resort continues to invest in the community by granting and additional $1 million toward nonprofits, such as Orange County United Way. Additionally, we celebrate Asian American Native Hawaiian Pacific Islander Heritage Month with two powerful cast member stories, run along with the Disney Be Well Cast Friends and Family 5K, congratulate the THRIVE mentorship program and more!
---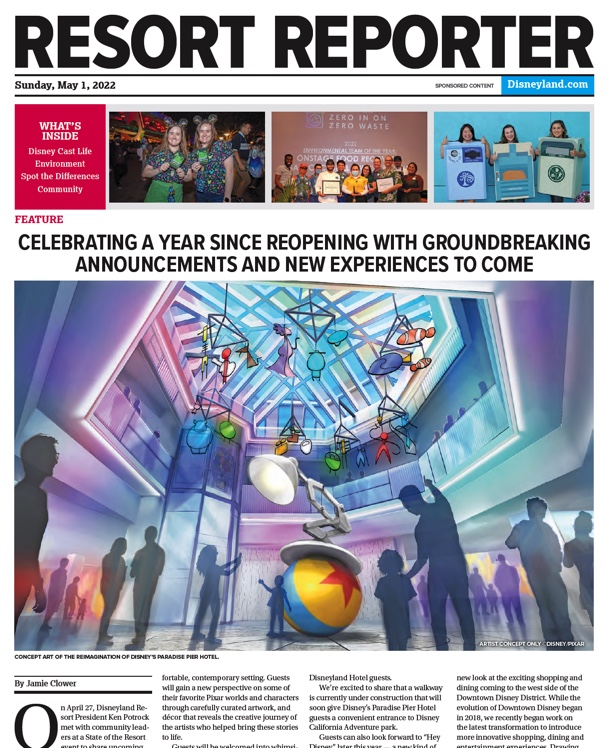 MAY 1, 2022
In this latest edition, we cover the momentous news of the Paradise Pier Hotel Pixar reimagining, groundbreaking at Mickey's Toontown as well as exciting dining options coming soon to the Downtown Disney District. We also highlight our Workforce Development Initiative featuring cast members who mentor students with Big Brothers and Big Sisters of Orange County and the Inland Empire. Further we spotlight a cast member who achieved her dance dreams through Disney Aspire, illuminate the cast events as nighttime spectaculars return, and more!
---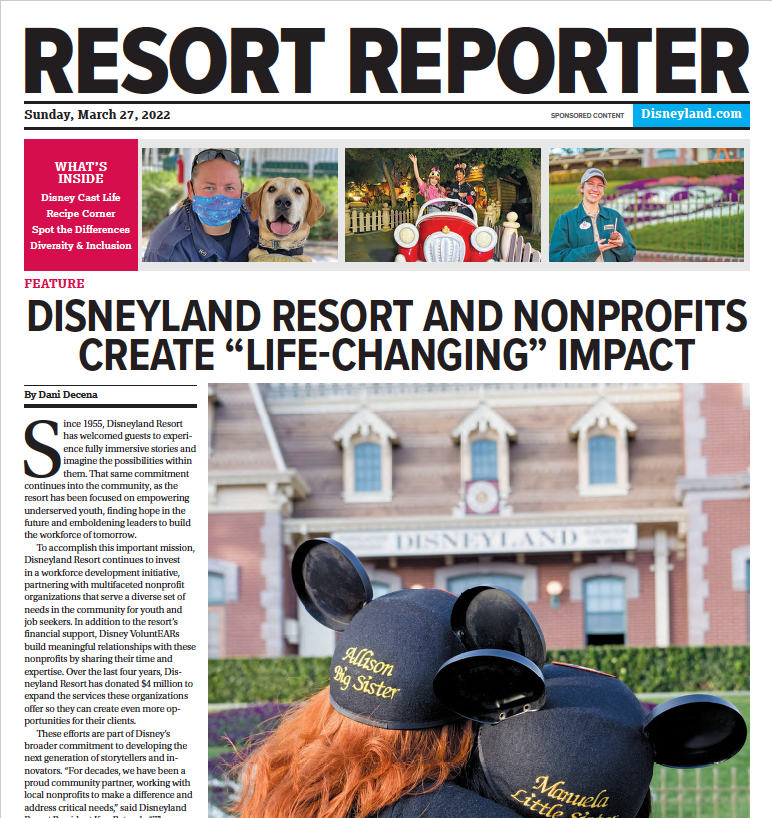 March 27, 2022
Introducing the resort's community workforce development initiative, this issue also spotlights a cast member working on his second degree through Disney Aspire, cast member foodies working Disney California Adventure Food & Wine Festival and more.
---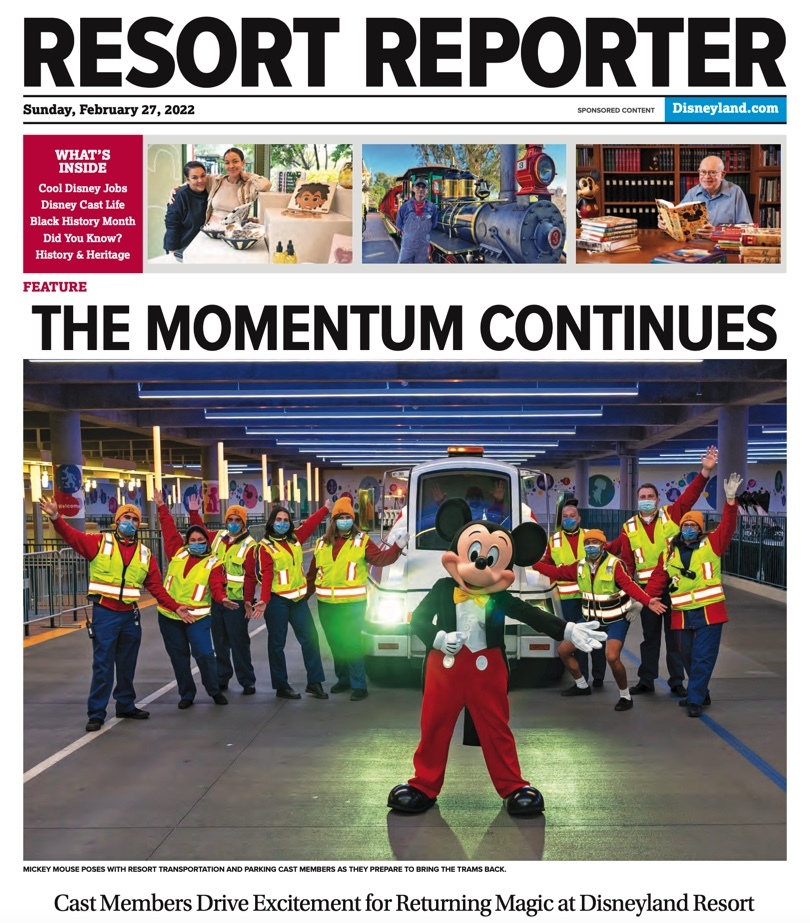 February 27, 2022
The Disneyland Resort celebrates forward momentum with the exciting return of the trams, a cast member is recognized for his act of heroism, Celebrate Soulfully is beautifully brought to life through artwork and Gospel music, and much more in this latest edition of the Resort Reporter
---
January 23, 2022
Disneyland Resort President Ken Potrock pays tribute to cast members in a letter to the community to kick off the new year, followed by spotlights on cast members who have taken advantage of Disney Aspire, a beautiful profile on the cast member who created the new Lunar New Year mural in Downtown Disney District and much more.
---
December 19, 2021
In this issue, Disneyland Resort and Make-A-Wish join forces to make more wishes come true for children with critical illnesses, cast members across the resort rally to open "it's a small world" Holiday and we take a look back on special memories as our 2019-2021 team of Disney Ambassadors become alumni.
---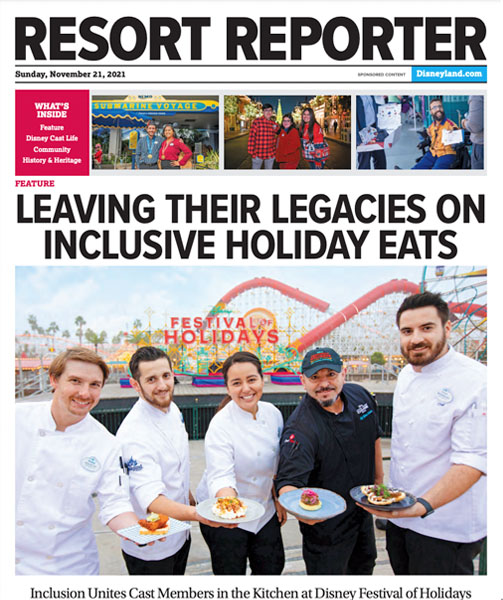 November 21, 2021
This month, Food & Beverage cast members get the spotlight for inclusion efforts in the kitchen at Festival of Holidays and Disney Aspire grads are celebrated for making their career dreams come true. In addition, cast members celebrate the return of holiday traditions and a Disney VoluntEAR makes magic by changing lives at Chrysalis.
---
October 24, 2021
This month, Disneyland Resort has been honored for its support of OC Food Bank, cast members celebrated the Halloween season with an after-hours scare maze and reflect on the everlasting bonds of family at Plaza de la Familia. The iconic Disneyland Monorail was welcomed back and the next team of Disney Ambassadors was introduced.
---
September 26, 2021
This issue celebrates Hispanic Latinx Heritage Month with a cast member who find pride in his heritage by performing in "A Musical Celebration of Coco." Other highlights include a look at the Native American influence at Tenaya Stone Spa and new diverse and inclusive mannequins at World of Disney.
---
August 22, 2021
This issue celebrates the return of more than 19,000 cast members back to work, innovations at Carthay Circle Restaurant, a cast member mastering his mental health with Disney Aspire and more.
---
July 25, 2021
In this issue, cast members celebrate the 66th anniversary of Disneyland, Anaheim high school students participate in a magical mentorship experience, Jungle Cruise Skippers have a spotlight moment and more.
---
June 13, 2021
In this issue, cast members and guests from our community are the first to experience Avengers Campus at Disney California Adventure park, a former "CHOC Kid" and Imagineer brings joy to patients, new food waste bins are introduced as part of our zero waste journey and more.