Pre-sales Appointments Now Open for the New Community
Storyliving by Disney is sharing some of the designs for the first homes being built in the Cotino community in Rancho Mirage, California, as part of the community's pre-sales period launching today. Interested homebuyers can learn more about becoming Cotino community residents including specifics on home designs, floorplans and elevations along with details about how to make a pre-sales appointment on the Story of Cotino website.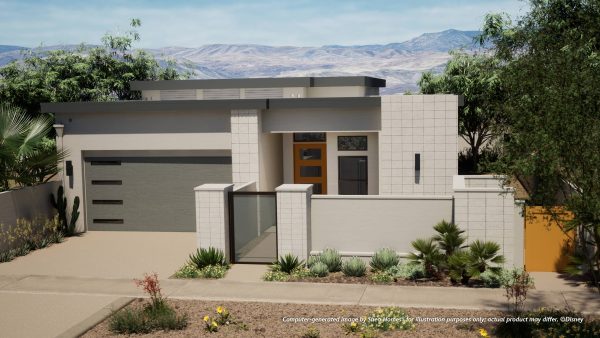 The first-ever Storyliving by Disney community is currently underway, where the magic of Walt Disney Imagineering and a talented team of industry experts, including DMB Development, will bring the Disney legacy of placemaking and attention to detail to life like never before. Set against the stunning San Jacinto mountains, the beauty of the Coachella Valley has ignited the imaginations of many over the years, including Walt Disney himself.
Disney Connections: Walt and the Coachella Valley
The design of the Cotino community is inspired by everything Walt and Lillian Disney loved about the Coachella Valley – stunning landscape, rich history, friendly neighbors and energizing spirit.
"It seems fitting that Cotino, the first Storyliving by Disney community, would have a similar setting as the one that Walt loved so much," said Walt Disney Archives Director Becky Cline. "Walt enjoyed the Palm Springs area as a creative, rejuvenating retreat, and our hope is that it will inspire future homeowners and guests just like it did him."
Only at Cotino: Home Designs
The first homes will be built by award-winning builder Shea Homes with floorplans designed for this community. From spacious kitchens with walk-in pantries to large dining rooms perfect for family gatherings, the homes in Cotino will offer future residents flexibility to choose an option that works best for them. Open floorplans seamlessly connect indoor space to outdoor courtyards, wrap-around patios and covered terraces designed to truly immerse residents in the region's natural beauty.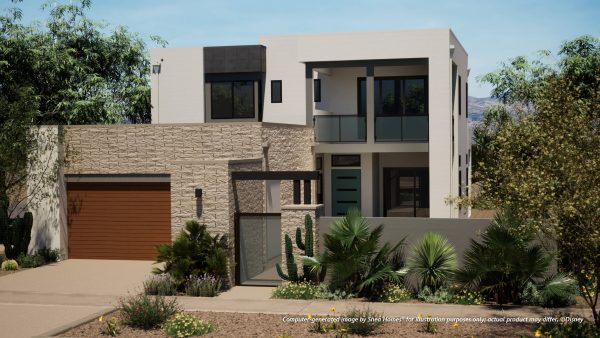 Homes will fall within four distinct design collections – Cotino Coachella Collection, Cotino Agrarian Collection, Cotino Oasis Collection and Cotino Aspiron Collection – representing the rich history and landscape of the Palm Springs area. Walt Disney Imagineering provided the architectural and aesthetic inspiration for each design collection including direction on color palettes, exterior elements and landscaping.
The initial sales launch in early 2024 will include a very limited inventory of Shea Homes. Additional home sites and builders will be introduced in phases through a thoughtful development approach as the community expands. In the future, there are plans for more than 1,900 residential units.
Getting Started: Find Your Cotino Community Home
Homebuyers interested in living in the Cotino community can begin the process by visiting the Story of Cotino website to learn more about the homes available in the initial release, including floorplans, elevations and anticipated pricing, and request a pre-sales appointment. Pre-sales appointments will be with Disney sales guides who will bring the Disney standard of customer service excellence to the homebuying journey. Requests for pre-sales appointments both virtually and in-person at the Cotino sales studio can be made by visiting the Story of Cotino website. Appointments are available now through Jan. 9, 2024 (subject to availability), prior to the start of home sales in early 2024. The on-site Cotino sales studio is open for in-person meetings by appointment only.
Home prices are set by the homebuilders. Purchase agreements will be between the buyer and the homebuilder.
Cotino is being brought to life in collaboration with DMB Development, which is highly regarded for its large-scale planned communities in the U.S.
Cotino is the first Storyliving by Disney community in the U.S. and other locations are under exploration. Each community will be uniquely designed with creative guidance from Walt Disney Imagineers who will take inspiration from the surrounding area's history, community and landscape to create a one-of-a-kind place that inspires residents to write their next chapter.
For those interested in living in the Cotino community, pre-sales appointments are now available. More information, including additional details about the first available homes and next steps for scheduling a pre-sales appointment, can be found on the Story of Cotino website.
This content contains general information about future proposed community plans, which are subject to change or cancellation at any time without notice. Disney is not the developer, builder or seller of homes within Cotino™ community or other Storyliving by Disney™ communities. The parties developing and building homes are independently owned and operated. No guarantee is made that the community, the Club or any facilities or improvements therein will continue to be managed by Disney, use the name "Disney" or otherwise be associated with Disney. This does not constitute an offer to sell, or a solicitation to buy, real estate to residents of any state or jurisdiction where prohibited by law, or where prior registration is required, but has not yet been fulfilled. Storyliving by Disney™ Realty is the exclusive listing agent for residential properties in Storyliving by Disney communities. Equal Housing Opportunity. Broker participation welcome. See storylivingbydisney.com for full details. [Storyliving by Disney™ Realty, DRE License No. 02194403]