Building a Stronger Community
Throughout its more than 50-year history, Walt Disney World Resort has played a vital role in finding solutions to important matters in Florida, helping to inspire a world of difference while strengthening this community for our cast members and our neighbors.
As we look to the future, we are inspired to continue this commitment, including an important new initiative to help bring more affordable housing to Florida.
Walt Disney World Selects Developer for 80-Acre Affordable and Attainable Housing Initiative in Central Florida
Walt Disney World has selected The Michaels Organization, a prominent and visionary developer known for creating high-quality homes in communities across the country and in Central Florida, to build, own and operate a new attainable housing development, offering affordable options for qualifying applicants within certain income levels.
Walt Disney World will contribute approximately 80 acres of land in southwest Orange County, Florida, for the development, located west of State Road 429 and just a couple of miles from Flamingo Crossings Town Center.
This initiative will help offer a viable solution to one of the nation's greatest challenges. The development is expected to include more than 1,300 units.
After a thorough search, Walt Disney World chose The Michaels Organization for its long-standing track record in building and managing attainable housing communities. Negotiations between Walt Disney World and The Michael's Organization on a definitive agreement for the project are underway. With over 425 communities in more than 35 states, The Michaels Organization has provided comprehensive solutions to affordable housing for many years and is the largest privately held owner of affordable housing in the country. The development will be open for qualifying applicants, including Disney cast members.
The initiative will create new jobs in the Central Florida community through The Michael's Organization's construction and ongoing operation of the property. Disney will collaborate with The Michaels Organization throughout its design and construction.
The development – which is planned to be privately financed – will be limited to applicants within a certain income range. This initiative will support and build upon Orange County's Housing for All action plan to address housing affordability for local residents, an action plan brought about by the passion and leadership of Mayor Jerry Demings.
"For more than 50 years, Walt Disney World has cared for and invested in our community, and we're committed to being a part of this solution which will bring more attainable housing to Central Florida," said Jeff Vahle, president of Walt Disney World Resort. "We will continue to find ways to use our resources to make a difference in the community we call home, and we're excited to take this step with a nationally recognized developer."
Additional details, including a construction timeline, will be shared in the future.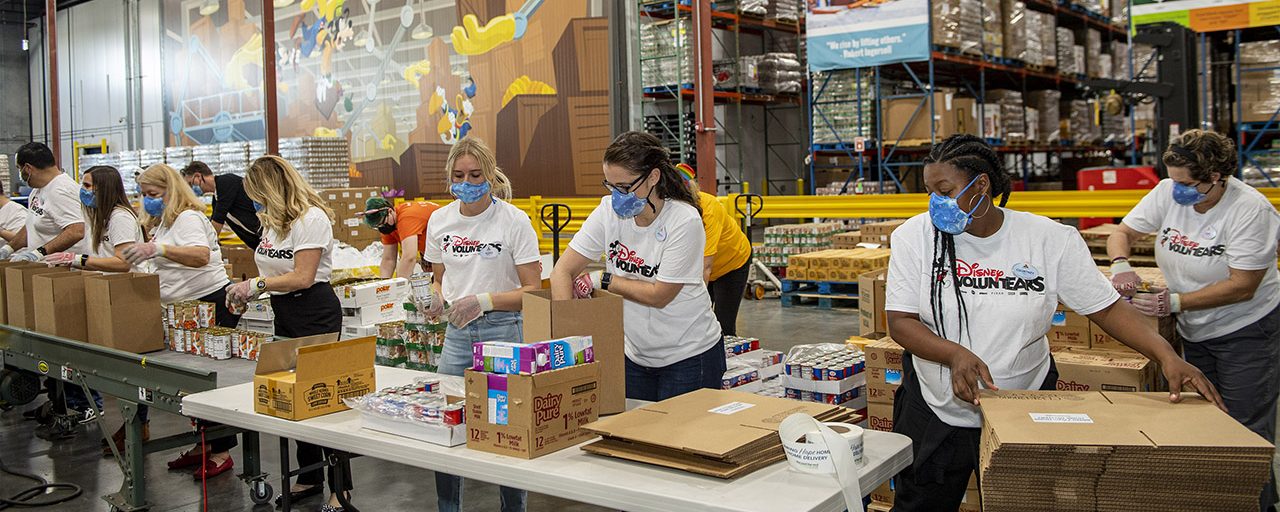 Investing in Organizations on the Front Lines
Disney has made significant investments to address affordable housing and homelessness from all angles in recent years, supporting organizations on the front lines of this issue through the Disney Grants program. Past recipients include:
Helps families move into a home of their own while providing wraparound services to help them adjust and find stability.
Digital System of Care for Youth
Disney also invested in a collaborative effort to further understand and address youth homelessness, helping to fund a new Digital System of Care for Youth program for Heart of Florida United Way, Zebra Coalition and Homeless Services Network. This mobile platform connects local homeless youth to a network of care and resources.
Habitat for Humanity Lake and Summer Counties
Runs a Youth Construction Academy designed to provide the next generation a hands-on education in technical skills within the construction industry – while engaging them in the social aspect of building affordable housing and bettering their community one project at a time
Second Harvest Food Bank of Central Florida
Helps to create hope and nourish lives through a powerful hunger relief network. The Disney Harvest Program supports Second Harvest's great work in serving more than 40 Orlando-area nonprofits, and for years, Disney VoluntEARS have helped to sort and pack food delivered across the region.
Throughout the celebration of our 50th Anniversary, Walt Disney World Resort has donated more than $6.5 million to important causes in Central Florida including Hope Partnership. This nonprofit organization supports families experiencing homelessness and poverty in Osceola County and provides a pathway to employment, healthcare and housing, connecting individuals with organizations like Disney VoluntEARS for skills-based support.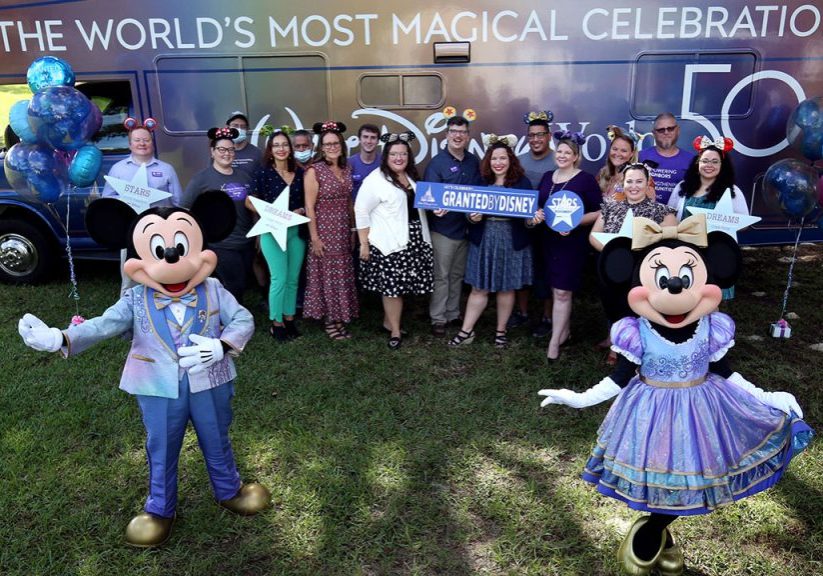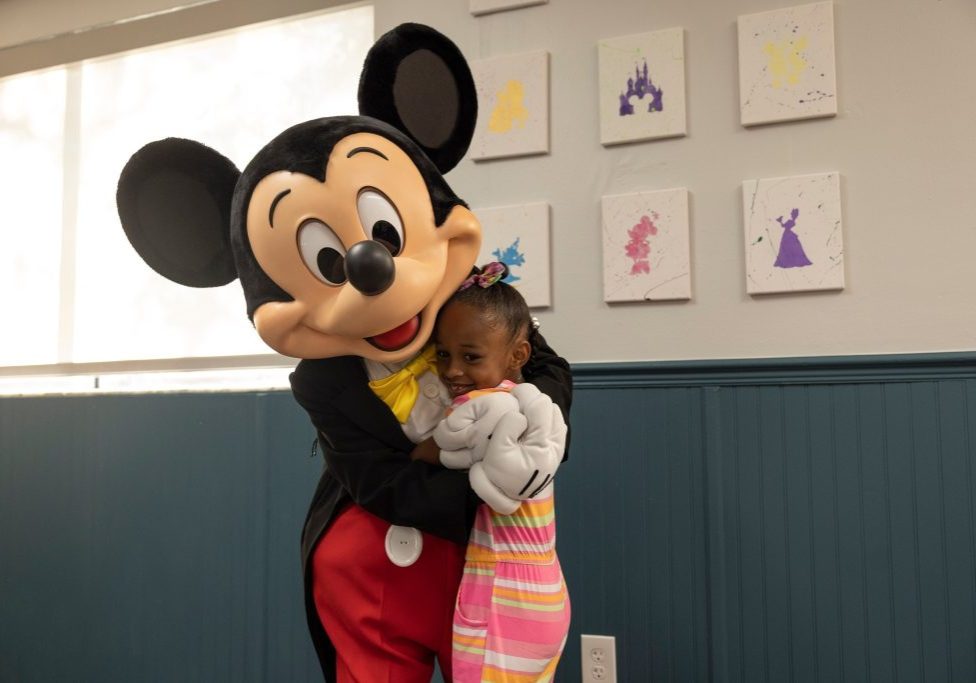 Taking a Leadership Role & Finding Solutions
Disney was a founding member of the Central Florida Commission on Homelessness, helping to provide rapid rehousing for chronically homeless families in Orange and Osceola counties. Rena Langley, Senior Vice President, Walt Disney World Communications and Public Affairs, joined the board in 2018. She is one of many Disney leaders who serve on more than 120 nonprofit and industry-related boards in Central Florida, sharing expertise and business insight that Disney has assembled over the years.
Serving Meals to Those in Need
For more than 20 years, Disney culinary teams and Disney VoluntEARS have delivered and served meals at the Coalition for the Homeless of Central Florida. This Central Florida nonprofit organization serves more than 20,000 meals to those in need each year, with 9,000 of those annual meals are prepared and served by Disney chefs. Each year on Thanksgiving, Disney chefs also dish up hundreds of tasty Thanksgiving meals to the Coalition. In 2021, we donated hundreds of to-go containers and $20,000 collected from the coins guests tossed into fountains at Walt Disney World Resort.